Metallic Tube Filling & Sealing Machine is mainly used to fill the material into metal tubes with fixed quantity and then seal the tube. It is widely used for the packing of chemicals, cosmetics, foods and pharmaceuticals, such as ointment, AB glues, super glues, epoxy adhesives, skin creams, hair dye, shoeshine, toothpaste and other liquid and sticky materials.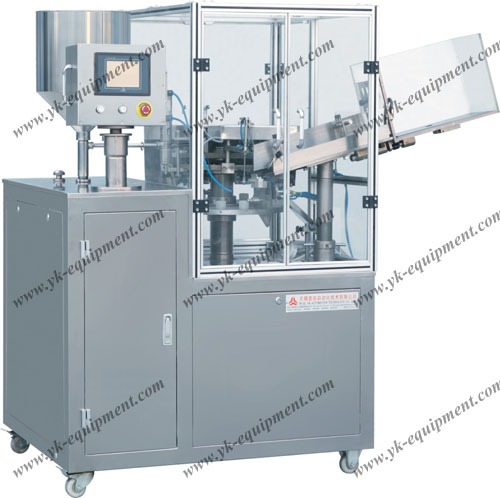 Working Process:
Manually put the metal tube (max: 16 tubes) into the tube-holding base. With the help of automatic mechanical transmission, automatic detection can confirm the tubing process and filling process. The final step is to seal the tube.
Specification:
Power Supply: AC 220V±10% 50HZ
Work Temp: 5~50℃
Filling Quantity: 10-75ml, 20-150ml
Quantity Error:<2%
Motor Power: 0.75~1.1kw
Compressed Air: Pressure: 0.6~0.7Mpa
Volume: 0.2m3/min
Capacity: 10~50 tube/min (adjustable)
Dimension: 1000mm*600mm*1700mm
Weight: 400kg
Features:
The machine is characterized by mechanism structure, high speed, high efficiency, low noise, convenient operation and maintenance.
The filling volume is easy and convenient to adjust.
The accuracy of adjustment is higher and the stability is good.
Replacement of the base is suitable for all kinds of metal hose filling and the sealing effect is perfect.
The sealing is tight. Such machine is made of high-quality stainless steel.
It has the malfunction alarm and over loading stopping device.
The filling nozzles with different specifications are provided to fit for the materials with different thickness.