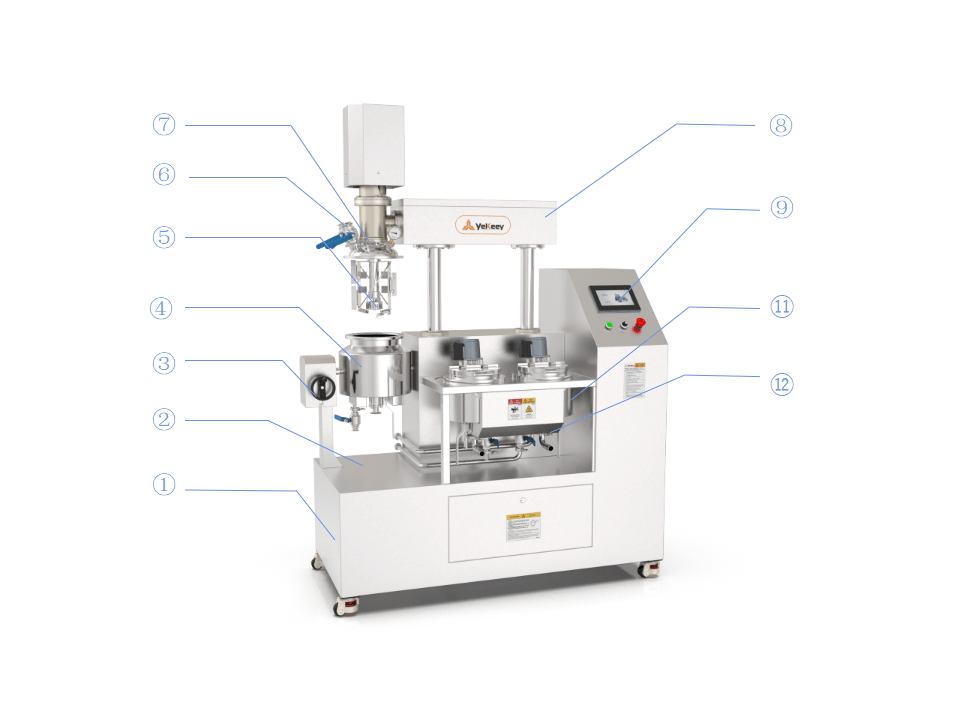 (1) System
Stainless steel cladding, safe and sanitary, easy to clean.
(4) Heating & Thermal insulation
The main pot has independent hating & thermal insulation temperature control system. The thermal insulation layer is arranged outside the heating system to avoide high temperature scalding.
(7) Vacuum
With vacuum system, the pot can be maintained at a vacuum of less than -0.095MPa.
(10) Lighting
Bran-new LED light source can both save energy and provide 150 lumens of illumination and 50,000 hours working life.
(5) Mixing & Ultra-highspeed homogenizing
Cooperated with YK patentmixing system, the ultra-highspeed precise Rotar/Statorsystem can achieve the best homogenizing effect.
(8) Lifting beam
It can lift the overall mixing system to the outside of the pot, which is easy to clean and observe.
(11) Pretreament pot
The two pretreatment pots are both equipped with independent heating, temperature control and dispersing system. Pretreament materials can be directly sucked into main pot via negative pressure of main pot.
(3) Tilting
The main pot can be flipped down to 120°so that even the high viscosity material can also be easily emptied.
(6) Connector
Reserved multiple sets of standard connectors can be used to add solid or liquid additives or access other sensors.
(9) Intelligent operating system
The simple and easy-to-learn innovative emulsifying control system is designed for lab environment. All the parameters can be adjusted easily. And even the hands are stained materials, it's still easy to control.
(12) Heating system
Exclusive heating sysytem for every pot.

Replaceable Rotar/Stator system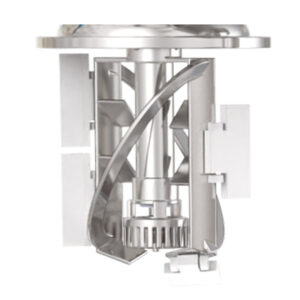 1. Core technology
YeKeey's patented technology – single shift and Ribbon stirring designed specifically for small emulsion mixers, enables your ultra high speed precision Rotor/Stator system to operate stably at 6000rpm, achieving the best homogenization effect.
2. Ultraly precise homogeneous shear system
operate stably at a speed of 6000 RPM
3. No dead angle scraper system
4. Supporting customization functions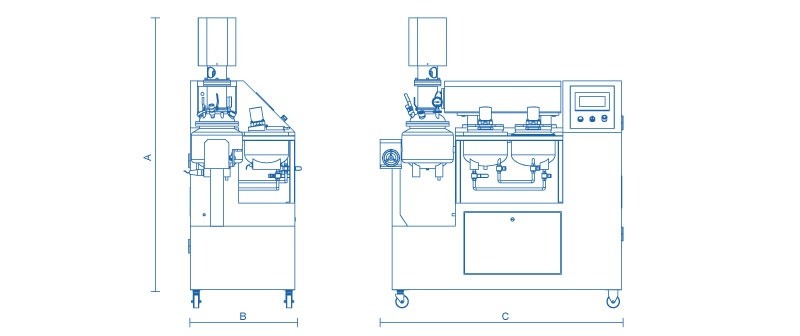 | | | |
| --- | --- | --- |
| Item | ZJR-5 | ZJR-10 |
| Mixing vessel(L) | 6 | 10 |
| Useful volume(L) | 5 | 8 |
| Working pressure in the vessel(bar) | -1to2.5 | -1to2.5 |
| Max. temperature in the vessel(℃) | 150 | 150 |
| Stirring motor power (kw) | 0.25 | 0.25* |
| Output speed r/min | 0-86 | 0-86 |
| Homogenizing motor power(kw) | 1.1 | 1.1 |
| Output speed r/min | 0-6000 | 0-6000 |
| Heating power(kw) | 2 | 2 |
| Vacuum pump power(kw) | 0.25 | 0.25 |
| Water vessel(L) | 3.35 | 7.8 |
| Useful volume(L) | 2.7 | 6 |
| Dispersion motor power(kw) | 0.025 | 0.025 |
| Output speed(r/min) | 1200 | 1200 |
| Heating power(kw) | 1 | 1 |
| Oil vessel(L) | 3.35 | 7.8 |
| Useful volume(L) | 2.7 | 6 |
| Dispersion motor power(kw) | 0.025 | 0.025 |
| Output speed r/min | 1200 | 1200 |
| Heating power(kw) | 1 | 1 |
| Dimensions | 1400*600*1700(2000) | 1500*600*1700(2000) |
Please send your needs to