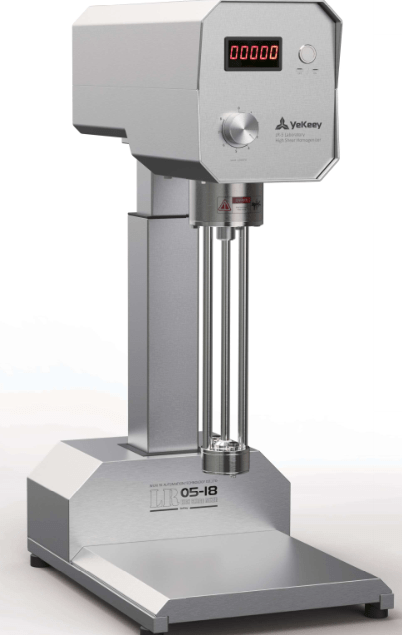 Application
Routine laboratory work
R&D
QA analysis
Small-scale production in all industries.
Function
Mixing
Homogenization
Emulsification
Dispersion
Dissolution
Provide experimental data for large-scale continuous production
Advantages
Multiple applications: Different types of stators and rotors can be replaced to meet different material requirements
Low investment
High speed: The speed can be adjusted arbitrarily in the range of 600-8000rpm
Corrosion-resistant: All used 304 food-grade stainless steel shell
Easy to operate, move, and clean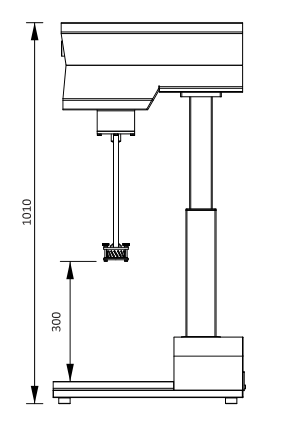 Model LR-5
Knob style
Digital display
Min. Working Capacity(ml)

300

Max. Working Capacity(ml)

5000

Total Power(w)

800

Highest Speed(rpm)

8000

Power Supply

220V 50Hz

Length(mm)

505

Width(mm)

340

Lowering Height(mm)

720

Lifting Height(mm)

1010

Special Function
Longest time setting: 30min
Rotating speed is displayed
The standard variety of working head, to meet the needs of all kinds of materials.

Type A Universal Homogeneous Stator

Homogeneous stator with wide application is suitable for mixing and dispersing occasions. For example, dispersion of solid and liquid, dissolution of gel and thickener, preparation of suspension and slurry.

Type B Slot Homogeneous Stator

It has moderate homogenization performance and can be used in various occasions where homogenization is required. It can also be used for crushing and dissolving of fiber materials and various polymers.

Type C Pass Homogeneous Stator

It is suitable for homogenization and emulsification of liquid and liquid, and is especially suitable for preparing all kinds of emulsions.

Type D Axial Homogeneous Stator

The special homogeneous stator can change the homogeneous jet flow into a bottom-up axial jet. It is very suitable for the conditions that need to reduce bubbles and maintain a constant cycle of heavy insoluble solids.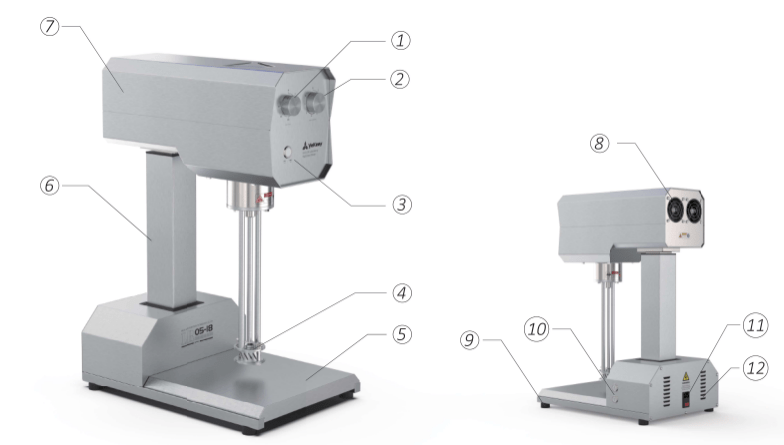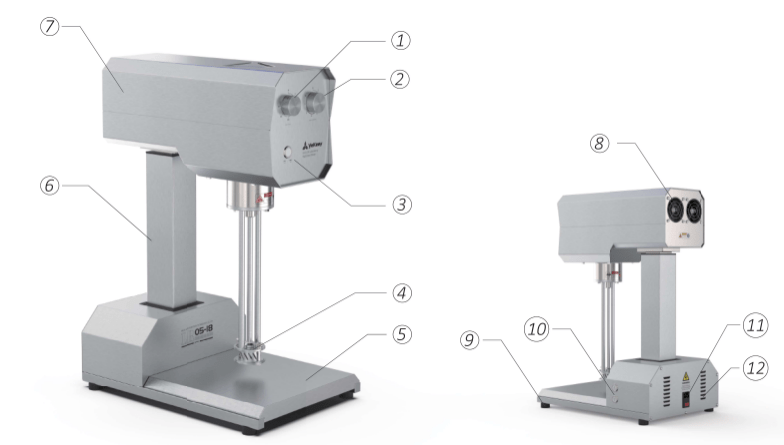 1. Timing knob

The timer of 0-30 minutes, 40mm aluminium alloy knob, anti-skid surface treatment, even wearing gloves can be accurately adjusted.

2. Speed control knob

600-8000 rotational speed regulation, 40mm aluminum alloy knob, surface anti-skid treatment, even wearing gloves can be accurately adjusted.

3. Mean Start Button

Stainless steel self-locking button, excellent feedback experience, corrosion resistance, easy to clean.

4. High shear mean working head

Stainless steel self-locking button, excellent feedback experience, corrosion resistance, easy to clean.

5. Stainless steel bracket

SUS304 material pallet, can be quickly disassembled, easy to flush sticky materials, and pallet can be optionally replaced by heating module.

6. Lifting column

SUS304 material, can dock at any position

7. All Stainless Steel Material

The whole mechanism and shell are made of SUS304 material of food grade, which is beautiful, sanitary, corrosion-resistant and easy to clean.

8. Cooling Fan

With the top ventilation hole to form a complete duct to ensure the stable operation of homogeneous motor components.

9. Rubber foot

It has the function of anti-skid and shock absorption.

10. Lift button

Stainless steel push button, excellent experience of operation feedback, corrosion resistance, easy to clean.

11. Power Supply

220V single-phase connection with power supply indication, cut off switch and fuse

12. Fin type radiator

Make sure the parts in the cabinet of ventilation and cooling, prolong the service life of electrical parts.
Please send your needs to