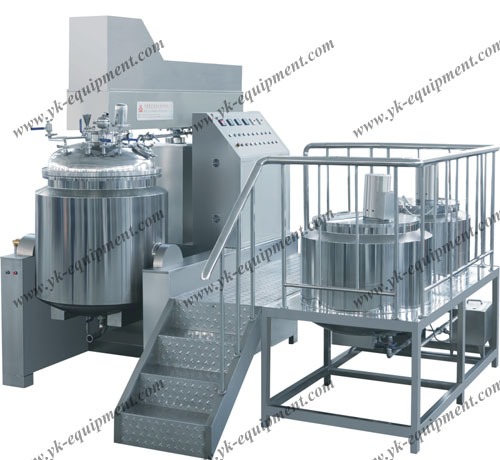 Product description of Emulsifying Mixer
In the high viscosity of emulsion, especially the manufacturing process of cream, ointment, emulsion products:
The problem you are facing:
One is: The dispersed phase particle size and mixing the air mixed with products, grain size is too large a everywhere emulsion instability, lack luster
The other is: Products into the air will make the products bubble, bacterial contamination, easy oxidation and the appearance is not smooth.
The solution——ZJR series vacuum homogeneous
By mixing with high-quality mixing blades, scraping the walls, and stirring in the center, they complement each other to form the best mixing method and achieve a perfect mixing product.
The color and vacuum pumping method ensure that there are no bubbles during the mixing process at the production outlet, which can produce high-quality products with luster, delicacy, and good ductility.
Advantages of Emulsifying Mixer
1. Better emulsification result
Lotion is more stable, and the droplet size is less than 5um
2. Suitable for high viscosity materials
up to 80000mpas in viscosity
3. High precision
PID temperature control, rapid heating
4. Safety
There is an insulation layer outside the heating inter-layer to prevent operators from getting burned
5. Convenience
The structure is easy to clean and maintain
6. Support customized functions
vacuum/sterile/explosion-proof/voltage
Name
Z J R-250
Z J R-350
Emulsifying Pot
Design Volume (L)
250
350
Capacity (L)
200
280
Scraper Stirring Power (KW)
2.2
2.2
Scraper Stirring Speed (rpm)
0-65
0-65
Homogenizer Power (KW)
4
4
Electrical Heating Power (KW)
12
12
Homogenizer Speed (rpm)
2800
2800
Water Pot
Design Volume (L)
160
250
Capacity (L)
128
200
Power (KW)
0.75
0.75
Speed (rpm)
1400
1400
Electrical Heating Power (KW)
8
12
Oil Pot
Design Volume (L)
130
250
Capacity (L)
105
150
Power (KW)
0.75
0.75
Speed (rpm)
1400
1400
Electrical Heating Power (KW)
8
12
Name
Z J R-2 5 0 L
Z J R-3 5 0 L
Length
Width
Height
Length
Width
Height
Emulsifying Pot Rack
1850
1105
2480-3480
2000
1350
2750-3850
Water and Oil Pot Rack
1800
768
1600
2000
868
1650
Table
1800
700
2000
750
Overall
2570
1900
2480-3480
2950
2720
2750-3850
Name
ZJR-650
ZJR-850
Emulsifying Pot
Design Volume (L)
650
850
Capacity (L)
520
680
Scraper Stirring Power (KW)
4
4
Scraper Stirring Speed (rpm)
0-65
0-65
Homogenizer Power (KW)
11
15
Electrical Heating Power (KW)
18
18
Homogenizer Speed (rpm)
2800
2800
Water Pot
Design Volume (L)
400
500
Capacity (L)
320
400
Power (KW)
1.1
1.1
Speed (rpm)
960
960
Electrical Heating Power (KW)
18
18
Oil Pot
Design Volume (L)
320
400
Capacity (L)
250
300
Power (KW)
1.1
1.5
Speed (rpm)
960
960
Electrical Heating Power (KW)
12
12
Name
ZJR-650L
ZJR-850L
Length
Width
Height
Length
Width
Height
Emulsifying Pot Rack
2500
1350
3230-4560
2650
1450
3350-4750
Water and Oil Pot Rack
2500
1150
1950
2650
1250
1950
Table
2500
850
2650
850
Overall
3650
3420
3230-4560
3750
3550
3350-4750
Please send your needs to