YLS hydraulic dispenser is often used in conjunction with planetary mixer, so it is often called planetary press. It is developed and designed by our factory independently on the basis of absorbing the advantages of the American and Italian press according to the development needs of our country's high viscous materials, especially for the silica gel packaging industry.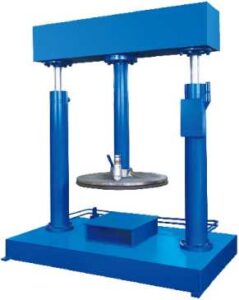 Employ integral frame, hydraulic lift with discharging barrel optional from 0 to 900 mm in height. The equipment is mainly composed of a frame, a two-pillar hydraulic lifting system (upper beam, lifting frame, barrel fixing frame), a main oil cylinder and pressure plate, a hydraulic station, an electric control box, etc. The discharge port is connected with the rubber pipe and connected to the dispensing machine. The pressure plate moves the piston rod downward under the action of hydraulic pressure, so that the pressure plate presses out the material in the kettle. With different diameters of the pressure plate, it can be used for the dispensing and loading of the barreled gel material (simultaneously with the GFG-A silica gel filling and sealing machine or GGY silica gel filling and capping machine can realize the dispensing and loading function). The sealing device of the pressure plate can make the gels well isolated from the air and scrape the wall of the barrel without retaining material and return material.
This equipment has the characteristics of simple structure, easy operation, good performance, high efficiency, reliable work, wide use, etc.
We are pleased to advise you personally.
We look forward to your challenges!