Lab Emulsifying homogenizer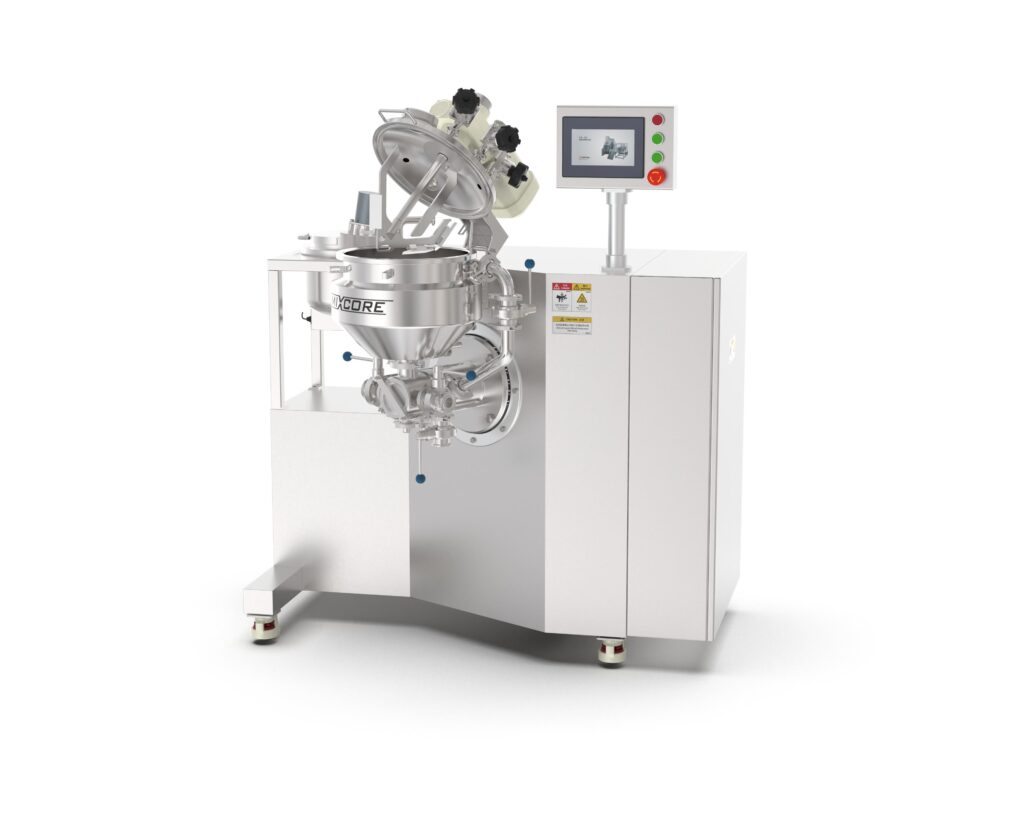 Application of Lab Emulsifying homogenizer
Food sauce : Ketchup , Mayonnaise , Jams
Cosmetics : Creams , Lotions , Gels  ,Natural cosmetics , Sun lotions
Shampoo
Ointments
Toothpaste
Pet food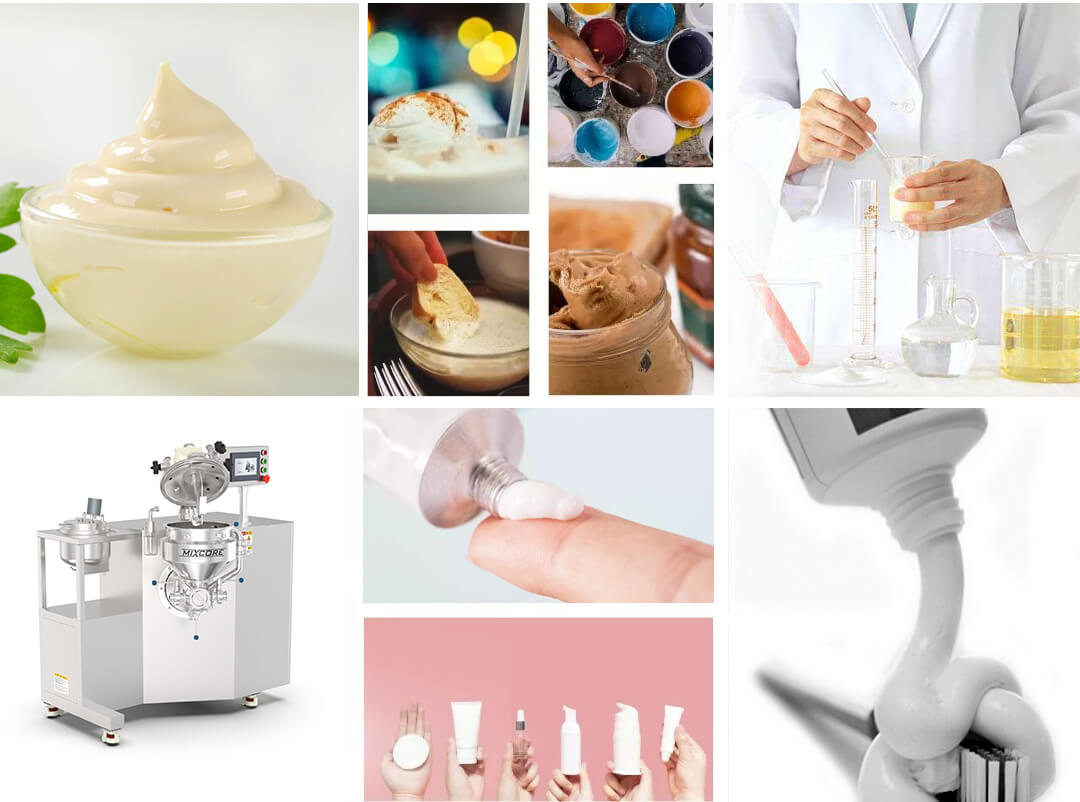 Shorter production time: Compared to the ZJR series emulsification machine, it can greatly shorten the production time by up to 90%
Better effect: unique and efficient mixing and recirculation homogenization system
Better seal: sanitary grade double end mechanical seal
Higher viscosity: The maximum processing viscosity can reach 100000MPas
The minimum production capacity can reach 20% of the full volume
Easy to clean: The system borns with CIP system
Easy to operate
Support customization: optional sterile emulsification system
Main technical parameters
| | |
| --- | --- |
| Item | Parameter |
| Model | MC-15 |
| Power | 380V 50Hz (Customizable) |
| Design volume | 15L |
| Working volume | 12L |
| Agitator motor power | 0.37kW |
| Max agitator max speed | 0-86rpm |
| Homogenizer motor power | 4kW |
| Max homogenizer speed | 0-5000rpm |
| Oil pot design volume | 7.3L |
| Oil pot working volume | 6L |
| Oil pot agitator motor power | 0.025kW |
| Oil pot max agitator max speed | 1400rpm |
| Water pot design volume | 7.3L |
| Water pot working volume | 6L |
| Water pot agitator motor power | 0.025kW |
| Water pot max agitator max speed | 1400rpm |
| Vacuum pump power | 0.37kW |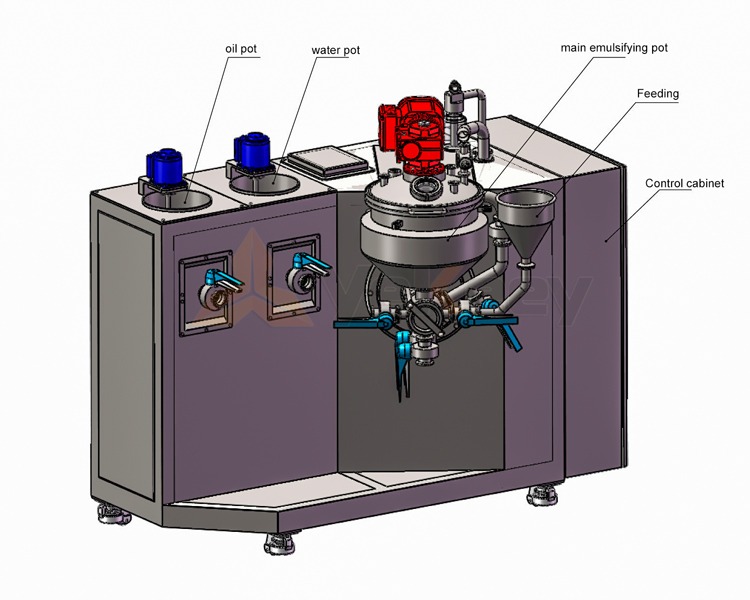 MC Lab Emulsifying Mixer Working Principle:
The working principle of the homogenizer is mainly that the powerful motor rotates at high speed to form a vacuum between the rotor and the stator, and the material is sucked in from the upper and bottom of the rotor and the stator. The strong kinetic energy makes the rotor produce higher linear velocity, so that the material will fly out after strong impact, crushing, centrifugal squeezing, liquid layer friction, and strong shear between the rotation and the stator gap, and the action of forces in a variety of different directions Down, produce strong turbulence.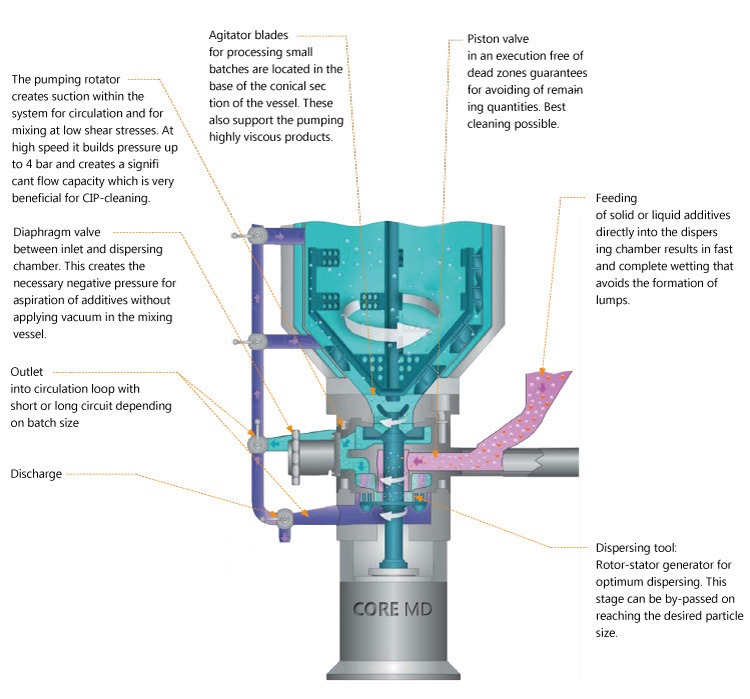 The material undergoes repeated cycles of depolymerization, dispersion, homogenization, refinement, and shearing for a certain period of time under appropriate emulsifiers and mature processes to produce a stable emulsion; the homogeneous emulsifier is highly efficient, and also quickly and uniformly. One phase or even the liquid between many phases and the solids enter the other-a continuous phase that is not compatible with each other, usually a liquid process equipment. When the fineness of one or many materials reaches the number of micrometers, or even nanometers, the system can be considered homogeneous. When external energy is input, the two materials are recombined into a uniform phase.