Mixing equipment includes emulsifier, homogenizer, planet mixer and so on.  Among these non-standard equipment, the stainless steel mixing tank is a variety of non-standard customized equipment.  It is often called differently depending on the functional structure and the industry in which it is used.   For example, in the daily chemical industry is commonly known as liquid wash pot or liquid wash stirring pot.  It is used to stir the daily chemical products such as hand sanitizer, shower gel and shampoo.  The viscosity of general products is relatively thin.  From the function called, can heat or cool, called hot mixing pot.  Since the structure is three-ply, it can be called a three-ply stainless steel mixing pan.  There are also flat cover, the lid is movable, can be called flat cover stirring pot.  It has a number of different names and names depending on its variety of non-standard customizations.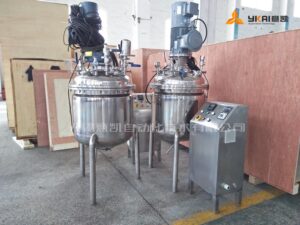 These two Algerian stainless steel vacuum agitator tanks due to the particularity of material production in the customer industry.  The equipment adopts explosion-proof treatment, and two kinds of high speed mixing and low speed dispersing are customized.  The client has high requirements for stainless steel mixing tank.  The pot cover is fully equipped with vacuum pressure gauges, relief valves, cleaning spray balls, LED lighting, microelement inlet and several backup valves.  Basically the same as the pot cover configuration of the ZJR emulsifier. The surface of the tank after turning is polished to ensure good roundness.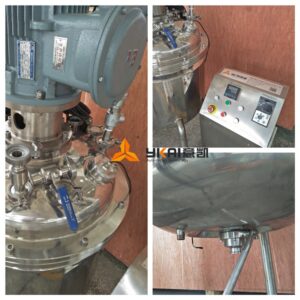 Now, two vacuum stirring tanks have passed the inspection and are ready to be packed and shipped to the international port of Shanghai and shipped to the customer site in Algeria, Africa.