The emulsifier is an industrial emulsification production equipment for the food, cosmetic, pharmaceutical and chemical industries. It has the functions of heating, cooling, heat preservation, stirring, vacuum defoaming, dispersion and homogenization. It is the right equipment for producing high-end products. In the emulsification production process, customers often ask us how the emulsification process guarantees product uniformity. For example, in food production, how can we guarantee that each batch of products can guarantee the same taste and the same quality?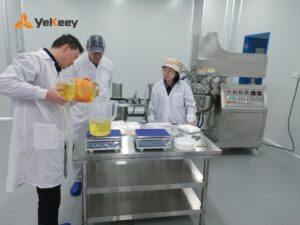 1.Artificial weighing ingredients
In laboratory or small-scale production, manual weighing ingredients ensure that the materials are proportioned. This results in accurate data from experimental studies or consistent products in small-scale production.
2.Flow meter
When the scale of production exceeds a certain limit, the efficiency of manual weighing and batching is low, and the labor cost is also high. This method is no longer applicable. In some emulsification productions that require large amounts of water, a certain amount of water needs to be injected into the emulsification tank. How can I allocate a good ratio with ease and effort? Some customers will use a flow meter to control the volume of liquid in the dosing tank, which can also achieve an efficient and labor-saving effect.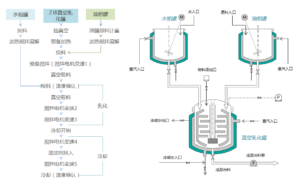 3.Pressure probe
The flow meter also has a range of errors. Some customers can use a pressure probe to solve this problem if the error is relatively high and data is required to be accurate. When the pressure sensor at the bottom of the tank senses the set pressure, the valve will automatically close. Regarding the weighing problem, a weighing module can be used. This is said to be more accurate. There are many pharmaceutical industries that use weighing modules to control liquid level and blending.
Wuxi Yikai professional vacuum emulsifier manufacturers, if you have the need for equipment ingredient solutions, please contact Yikai. Tell us your needs, Yikai technicians can customize the corresponding solution according to your working conditions.