High shear dispersing emulsifiers are applied to many industries. Such as cream, silicone oil emulsification, food sauce homogeneous emulsification, slurry dispersion, pigment dispersion, wax emulsification, nano material dispersion, glue dissolution, polymer dispersion, vaccine, etc. The field of use of high shear emulsifiers is constantly expanding. The high-impact emulsifier integrates a multi-function traditional production process. To achieve a variety of mixing purposes, the traditional process requires multiple processes, while the high shear dispersion emulsifier can be completed in one step.
The following is a case:
The powdered additive is first dissolved in the A material. Then add the B material reaction and synthesize it into C material. The aqueous phase is further emulsified, and then the filler is dispersed. Then add a thickener or the like.
1. Traditional process production
If the process is different from the traditional production method, the appropriate agitator is required, and 3 reactors and pumps are required. The first step is to dissolve in the reaction kettle with the propulsion agitator. The second step is pumped to the reactor with anchor paddle agitator for reaction synthesis. The third step is to pump the reaction kettle with high speed dispersing tray for emulsification and packing dispersing.
2. Modern craft production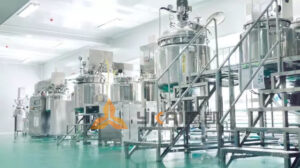 The high-impact dispersing emulsifier is equipped with a main emulsifying tank and two water pans. All processes can be automated through the pipeline. The material to be dissolved may be first placed in a water pan for dispersion heating and dissolution. The material is then sucked into the main emulsion tank by vacuuming to avoid contamination of the material from contact with the outside world. This can greatly improve the cleanliness of product production. Dissolving, stirring, dispersing and homogenizing speed can be frequency-adjusted.The material is in the main emulsion tank, and the added material can be directly sucked into the stator/rotor region to accelerate the dissolution and dispersion due to the axial flow. The reaction is more adequate due to the equalization of the mixing probability and the reduction in droplet size. High-speed operation during emulsification and dispersion, high-speed shear homogenization, allowing finer shear of material particles. When the reaction is running at a low speed, the volume also reaches the highest position, and the jet generated at a high speed multiplies the shear force to uniformly distribute the phase and the phase to achieve a stable structure. The high-shear emulsifier vacuum defoaming function can remove the foam in the product, greatly improving the quality and stability of the product. The use of high-shear dispersing emulsifiers saves containers, pipes, valves, pumps and other equipment, and also has high productivity and energy saving.