The old customer of this pharmaceutical company is the third time to cooperate with Yekeey. The customer previously purchased laboratory emulsifier and pilot emulsifier equipment at Yekeey. Because the output could not keep up, based on the affirmation of Yekeey equipment and the trust of Yekeey, the two sides had a third cooperation. I heard that Yekeey's MC series external circulation emulsifier is fast and has high productivity, so I focused on the equipment. This high-end external circulation vacuum emulsifier is especially suitable for the mixing, emulsification, homogenization and mixing of ointments in the pharmaceutical industry. The main technical indicators are basically the same as those of similar foreign equipment. The utility model has the advantages of high efficiency, light weight, complete module structure, convenient operation and long-time operation. This easily meets a variety of demanding particle fineness.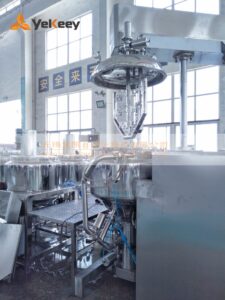 Yekeey external circulation vacuum emulsifier vacuum emulsification unit is often used in the cosmetics and pharmaceutical industries for the production of multi-series products. From emulsions to gels, low viscosity to high viscosity products and partial to complete batches, vacuum emulsifier units are suitable for a wide range of production needs. It can meet the production quality required to produce at a specific time. PLC micro-computer automatic operation, from feeding to discharging, can be cleaned and operated automatically.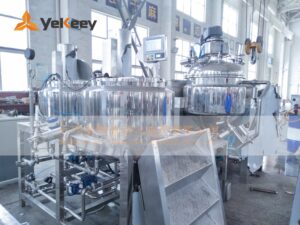 At present, the external circulation vacuum emulsifier equipment has been shipped to the customer's factory. Yekeey engineers also arrived at the customer's ointment production site to install and debug for the customer. After several days of installation and commissioning, the current customer ointment production equipment – MC-300 has been officially launched! Congratulations to the old customers for their early gains!