Salad dressing has always been popular with Western countries for its friendly taste. In recent years, with the exchange of Eastern and Western cultures, salad dressing has often been used in some domestic restaurants. Vegetable salads and fruit salads are also popular with younger groups. The original export-oriented salad dressing also has a considerable market share in China. If you need to expand production or want to build a new salad dressing line, you can contact Yekeey for a reference to our salad dressing equipment. They are ZJR classic vacuum emulsifier and Mixcore new series external emulsifier. These two series of salad dressing production equipment are widely used at home and abroad.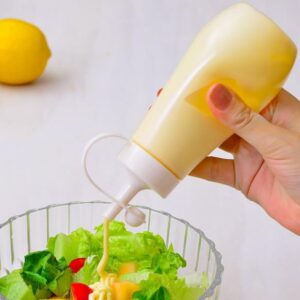 A few days ago, a domestic food customer experimented with our company's new series of external cycle emulsifiers. The product tested is the product of salad dressing! Let's take a look at the material effect of this machine!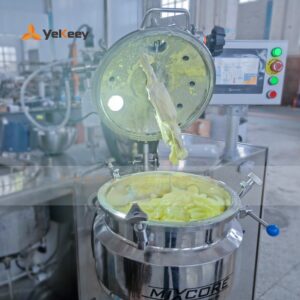 The salad dressing is generally synthesized by homogenizing and stirring the oil, egg liquid and some additive raw materials and emulsifiers by an emulsifier. Generally, the content of fats and oils is relatively large, and the salad made is relatively sticky. The homogenized agitation function of the emulsifier makes the fat distribution fine. It can improve the mayonnaise products, and the material properties are stable after homogenization. These high-oil products can produce a good mouthfeel through the shear thinning and dispersion of the emulsifier.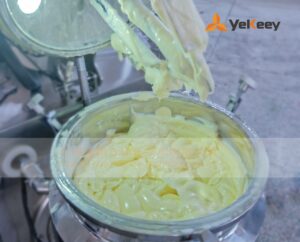 The salad dressing emulsifier developed by Wuke Yekeey is a complete set of homogenizing equipment. Stirring and homogenization is completed once, on-line production, and there is no dead angle in hygiene. The salad dressing produced has a delicate taste and a uniform appearance. It does not separate from oil and water. We can provide complete solutions from 5L to 1000L reaction system, including: stirring, homogenization, heating, vacuum, etc. If you need, please contact Yekeey.