With the development of the cosmetics industry, there are more and more types of cosmetics. A wide variety of cosmetics, including skin care, make-up, liquid wash products and so on. Cosmetics are no longer a luxury, and now they have entered the homes of ordinary people. With the popularity of various cosmetics media programs, micro-business, self-media and other channels, the public's understanding of cosmetics has reached an unprecedented height. For the image and maintenance, people pay attention to their own appearance. Different types of cosmetic production processes and equipment are not the same. What are the common cosmetic mixing equipment? Vacuum emulsifiers are required for common cream products. Liquid-washed products are generally produced by using a liquid-washing stirrer. Although both devices are hybrid devices, there are still many differences between the two.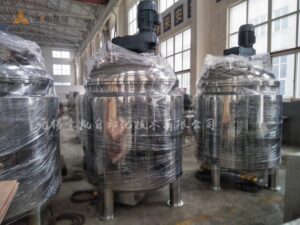 The liquid washing pot we are talking about can also be called liquid washing pot, stainless steel stirring tank and so on. Such equipment is generally used in the production of toiletries, such as shampoo, shower gel, hand soap, detergent and other products that are used daily. This is a custom-made device, and each function module can be customized. The equipment can be selected for mixing, homogenization, heating and cooling, pump discharge, bottom valve discharge, vacuum defoaming and other functions. There are various types of agitation, such as anchor agitation, paddle agitation, paddle agitation, dispersing discs, homogenizers and the like. This kind of equipment is welcomed by many customers at home and abroad! The output is generally from 50L, 100L, 150L, 200L… to 20T. Generally, the liquid washing and stirring pot of 200L or more can be equipped with an operation platform for convenient operation. This type of product generally only needs to be equipped with a stirring function.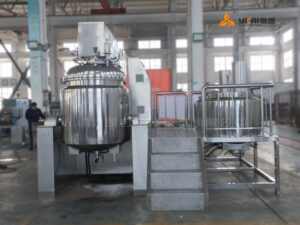 The production equipment for high-end cosmetics products generally uses modern vacuum emulsifier equipment. This is a device commonly used in cosmetics factories. It works by passing two materials that are incompatible with water and oil through ultra-high-speed shear fusion emulsification processes. The composition of the equipment includes: oil pan, water pot, heating system, stirring system, vacuum system, automatic lifting system, operation control cabinet, piping system. In addition to the field of cosmetics production, it is also applicable to the fields of biomedicine, food industry, paint ink, nano material, petrochemical, printing and dyeing auxiliaries, paper industry, pesticide and fertilizer. Due to its very comprehensive functions and flexible customization, the fields involved are also very extensive!