In mid-March, the ZGJ series vacuum toothpaste paste machine ordered by the Czech toothpaste daily customer, which was undertaken by Wuxi Yikai Company, was shipped in accordance with the node. After the filling machine equipment was completed, the business staff uploaded the pictures and videos of the debugging and machine appearance and details to the customer. Through many inspections, this 150L vacuum paste machine passed the customer's acceptance and entered the packaging and delivery stage. The company has arranged for the logistics company to ship the equipment to the Shanghai port, and will soon leave for the Czech customer factory.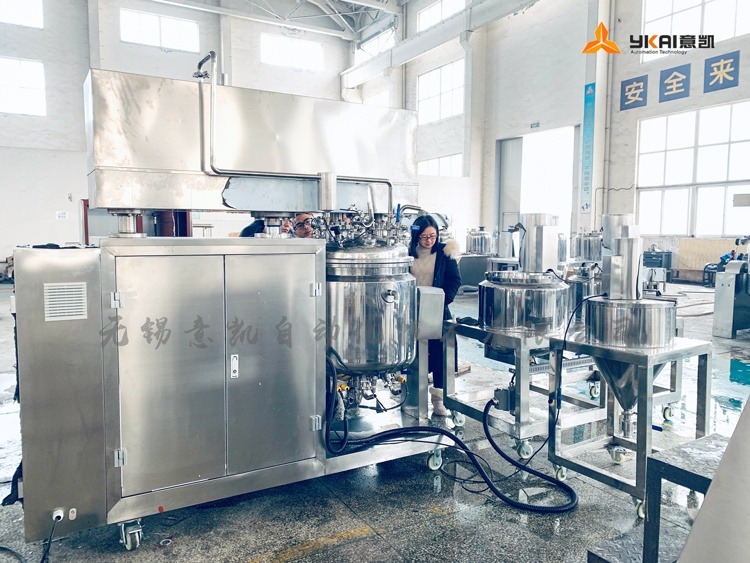 Toothpaste production equipment – vacuum paste machine, model: ZGJ-150, equipment volume 150L, working volume: 120L, containing three pre-treatment tanks, two water tanks, one powder pre-treatment tank, the main pot part by the ribbon The agitation is composed of two three-layer high-speed dispersion parts. Main control button control, contact with material stainless steel SUS304, main pot double-axis high-speed dispersion, ribbon-type mixing, with water pot, oil pan and conical powder pot. The paste making machine is a key toothpaste production equipment in the production of toothpaste to ensure the quality of toothpaste products, meet the production process requirements and realize the full automatic control and management of the toothpaste production process.
Wuxi Yikai is an established supplier of toothpaste vacuum cleaners. The design, fabrication, installation and commissioning of various non-standard equipment can be carried out according to the specific process requirements of the customer. It can meet the process requirements of making emulsification of toothpaste, cosmetics, medicine and other media under vacuum. Various models are suitable for production of various scales within the effective working range. After more than 20 years of experience, Yikai has been at the forefront of the industry in terms of equipment performance quality, product production plans and pre-sales and after-sales services.