The delicious taste of mayonnaise is very popular with us. How can mayonnaise be produced with high efficiency and quality? What kind of mayonnaise making machine is required? Since YK's MC series external circulation vacuum emulsifying machine came into the market, its efficient mechanical performance has been welcomed by many customers, especially in the production of food sauces. The flexible emulsion production system can be well applied to various production processes for different sauces such as mayonnaise, tomato sauce, salad sauce, cassia sauce, cheese sauce, chocolate sauce, etc.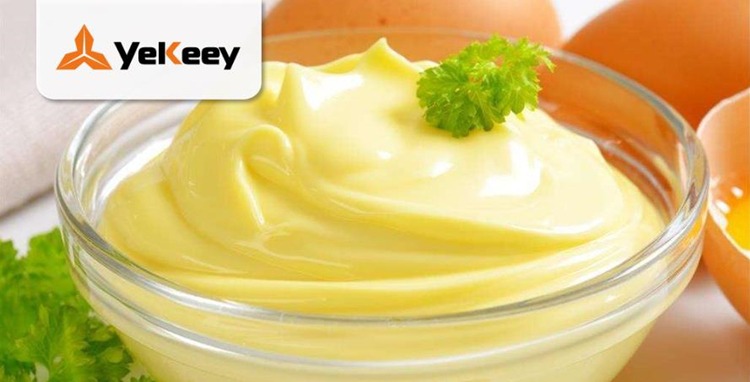 Appropriate mayonnaise making machine
The formula is very important in the production process of mayonnaise. Only with appropriate formula can produce high-quality and delicate products. In the formula, the emulsifier is usually egg yolk, milk protein, or vegetable emulsifier. Through the addition of an emulsifier, a stable emulsion system can be obtained. But usually, the addition of additives is not enough to produce high-quality lotion. More importantly, appropriate mayonnaise making machine is needed to disperse the oil phase into extremely small droplets through mechanical shearing so that the mayonnaise produced by the machine can be harmonious in taste and stability. This is exactly what Mix core external circulation vacuum emulsifying machine is good at.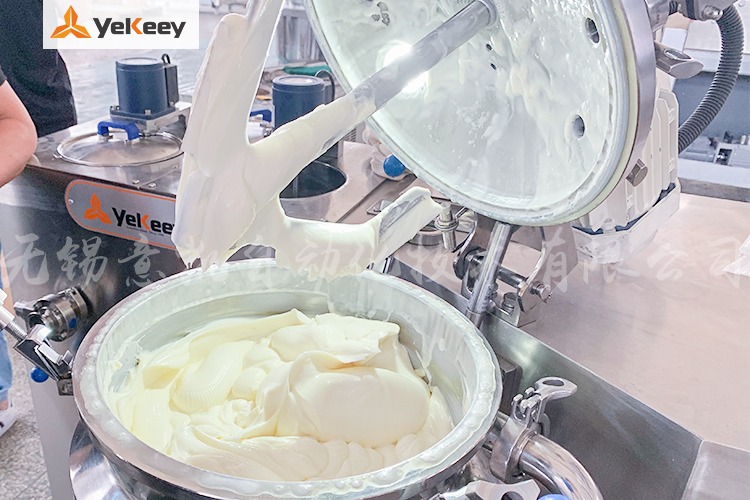 The above is the real picture taken by the MC series laboratory vacuum emulsifying machine test on site. Through the above picture, we can see the perfect scene when mayonnaise is emulsified out of the pot. If you want to know more, you can also find the relevant test video on the website, or send materials to us to help you test the machine. Our company provides you with a comfortable and clean test environment.
MC series external circulation vacuum homogenizing emulsifier
MC series external circulation vacuum homogenizing emulsifier can realize efficient mixing, homogenizing, and dispersion. It can heat and cool materials, and optimize the powder feeding mode. The innovative structural design makes it very suitable for handling high-viscosity materials. This vacuum homogenizing emulsifier can also work in pressure and vacuum environment. MC series vacuum homogenizing emulsifier takes advanced "recycling emulsification" as the core technology of system design. The equipment specification covers experiments, pilot tests, and production, and can provide scientific and effective homogenizing and mixing solutions for the production of complex and diversified products in many application fields.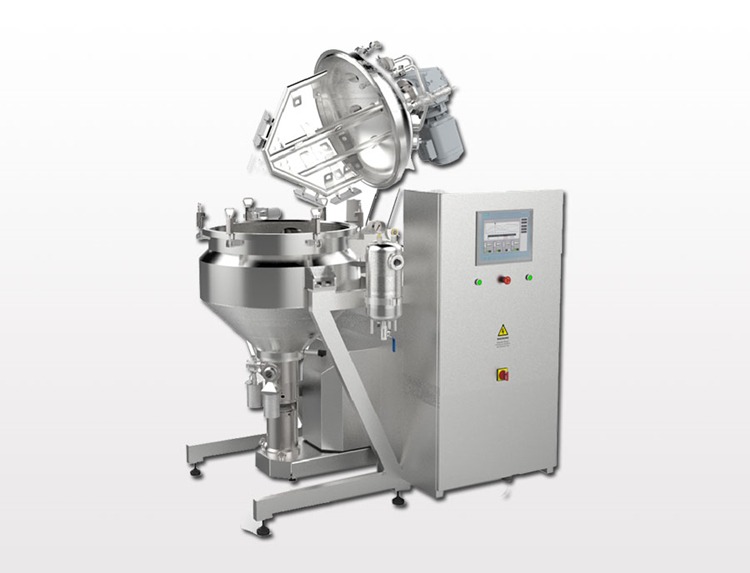 Advantages and features
MC series external circulation vacuum emulsifier has many advantages and features, which can meet different process and treatment requirements of various products. This machine is the ideal equipment for producing high-viscosity products such as mayonnaise, salad sauce, cassia sauce, sesame sauce, various condiments, tomato sauce, bread sauce, and chocolate sauce.
The mayonnaise making machine developed by YeKeey is a complete set of homogenizing equipment. The homogenizing is completed at one time, and the online production is sanitary without dead ends. The production time of 1000L mayonnaise is only 10 minutes! The mayonnaise produced has a delicate taste, even and beautiful appearance, and will not separate oil from water when it is still. We can provide a complete solution of 5L to 1000L, including mixing, homogenizing, heating, vacuuming, etc. In addition, this emulsifying machine is also suitable for pharmaceutical, cosmetic, chemical, and other industries. If you need it, please contact YeKeey.