With the development of international e-commerce trade, the procurement trade of countries around the world is not limited as before. More good products and technologies have been more widely advertised on the Internet. Vacuum emulsifier is the main force of productivity in the cosmetics equipment industry. In just a few dozen development days, from the past to the imitation of self-innovation in the past, China's emulsifier equipment can be described as earth-shaking. In a word, it is most suitable for "a country that is powerful." The core of technology has been innovated, although the product has also been greatly improved. China's emulsifier is therefore highly popular among foreigners. However, as more and more people demanded the market, they hope that the equipment produced can be smaller, and they can not occupy too much production floor space. Therefore, the mass production of small emulsifiers has become a major trend now.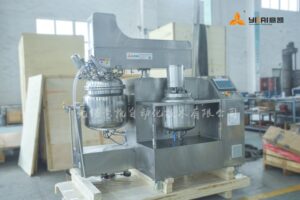 A Czech cosmetics company ordered two sets of small emulsifier mixers at Yikai. One of them is the ZLR series 50L pilot-type vacuum emulsifier and our MF series 20L vacuum tank. Among the small emulsified mixing equipments of YK, there are various options for experimental 5L, 10L, pilot type 30L, 50L, 100L, 150L, 200L equipment. Of course, we can also choose the custom-made Shengpan customization through the customer's own requirements. The Czech customer's new ZJR-50 is equipped with an electric lifting and touch-screen PLC operating platform. The full configuration has vacuum, filter and pouring holes. The details are equipped with 360° non-dead angle rotating pulleys. The random movement is relatively strong! The averaging motor is equipped with 1.5 kW, which can increase the emulsification effect more efficiently.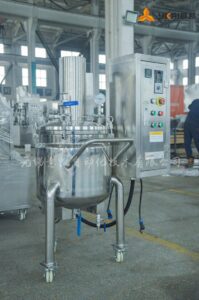 At present, the small emulsifier developed by YK can be booked through the official website of Yikai. Of course, you can also buy it at the Alibaba store. Online sales staff will be happy to help you, more cosmetic equipment can consult us! Seiko manufacturing, service first!