In the production of food, pharmaceutical and cosmetic industries, mixing is one of the important operating units of the processing technology. The viscosity of materials has always been a focus and difficulty for fluid mixing machine designers. How to make high-viscosity materials evenly mix during the mixing process to meet the requirements of emulsification. Yekeey equipment technology design is constantly optimized and upgraded. High viscosity material mixing is also an important topic in our technology research and development. After a long period of effort, Yekeey has a relatively complete solution for the technical design of high shear emulsifier equipment. Here is a brief introduction to how the viscosity of high-viscosity materials changes during the mixing process.

In the production process of the food mixing industry, the viscosity of the high viscosity material changes during the mixing process of the homogeneous emulsifier equipment. The main function of the mixing is to tear the material to be mixed into thinner and thinner layers by the strong shear force brought by the stator. The size of the area of a component is reduced, thereby changing the viscosity of the material. In addition, the viscosity of the material can be adjusted by temperature control.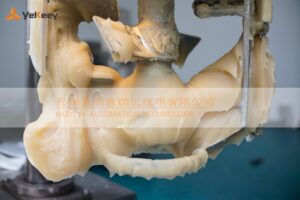 The high shear emulsifier with dispersive shearing function can efficiently, quickly and uniformly distribute one or more phases into another continuous phase for high viscosity multiphase materials. In the usual case, the phases are mutually insoluble. The high-shear emulsifier has stable operation, low noise, convenient cleaning, flexible maneuverability, continuous use, and ultra-fine shearing, dispersing and emulsifying materials. The high shear emulsifier is suitable for working under normal pressure, vacuum and positive pressure conditions. More about high-viscosity materials processing solutions, welcome to contact – more than 20 years of equipment manufacturing experience manufacturers – Wuxi Yikai, dedicated to serve you!