According to the experimental research and development needs of the dual planetary mixer industry, the planetary mixer manufacturer designed the laboratory dual planetary power mixer. So that the user's small test laboratory can be used for research and development. Below the Yikai Planet Mixer manufacturer will introduce you to the characteristics of the laboratory planetary power mixer. Take a look!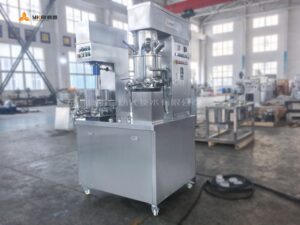 The machine is especially suitable for the dissolution, mixing, mixing and reaction processes from powder to high viscosity and high density materials. Widely used in battery, silicone, ink, dyes, adhesives, high viscosity coatings and other chemical products.
Product characteristics of the laboratory dual planetary power mixer
1, low clearance
The gap between the paddle and the paddle (4-6mm), the paddle and the barrel wall (3-4), and the paddle and the bottom of the barrel (2-3mm) is low. The precision gap between the stirring slurry and the stirring slurry and the inner wall of the stirring tank is that the stirring tank has no dead angle and has a high kneading effect. The materials are quickly infiltrated and kneaded in a short time.
2, low noise
Precision machining of parts and professional tooling. The component has high degree of fit and low wear. The operation is smoother and lower noise. Create a low-noise workspace with full load operation.
3, corrosion resistance and zero leakage
Anti-corrosion mechanical seal with soft, static and other seals. The planetary gearbox is fully sealed and the all-round sealing concept increases the sealing performance by 50% on a conventional basis. The degree of vacuum can reach -0.095 MPa, and the vacuum retention is high, ensuring zero contamination during the mixing process.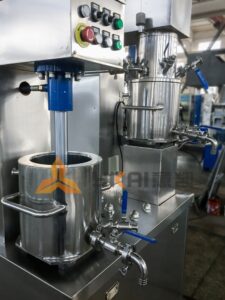 4, high intensity
According to different mixing processes (wet mixing, dry-wet mixing), the strength is calculated. It is suitable for the mixed reaction of high viscosity, high solid content battery positive and negative electrode slurry, binder and other products.
5, high integration
Pre-mixing, mixing, turnover, and filtration are seamlessly and quick-released, without contact with air. PLC automatic control, speed, temperature, lifting, vacuum system, can be integrated on one panel to control.
6, strong matching
The laboratory planetary mixer can be equipped with double twist, double paddle, double butterfly, three twist, double straight frame agitator and ascending barrel or ascending beam type to meet the production needs of different working conditions.