As we all know, for the production of cosmetics, formula, and process are the two core of the product, while emulsifying process, namely emulsifying technology, is an important technology in the production of cosmetics. Among the dosage forms of cosmetics, the emulsification type is the majority, such as skin lotion, nutrition cream, shampoo, bath gel, etc. Among the raw materials of these cosmetics, there are not only light water components, such as water and alcohol, but also lipophilic components, such as oil, high-carbon fatty acids, alcohol, spices, organic solvents, and other components, as well as powder combinations such as titanium dioxide and talcum powder. If you want to mix them together, you must use good emulsifying technology. This requires high-quality cosmetics production equipment to improve the emulsifying process. Do you know the cosmetics production equipment that can improve the emulsifying process? Let's have a look!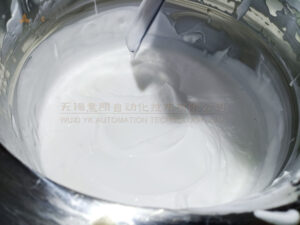 Cosmetics Production Equipment-SP series bottom homogeneous external circulation emulsifier
SP series bottom homogeneous external circulation emulsifier produced by professional emulsifying machine manufacturer YeKeey is an ideal cosmetics production equipment with high-cost performance. The homogenizer of the SP series bottom homogeneous external circulation vacuum emulsifier is installed at the bottom of the emulsification pot. The materials in the kettle can be homogenized and emulsified repeatedly through the external circulation pipeline to achieve the effect of full and uniform mixing, especially for the production of cosmetics lotion and cream.
The SP series bottom homogeneous external circulation emulsifier adopts advanced fifth-generation emulsifying technology. Its typical characteristics are a more delicate emulsifying effect, higher emulsifying efficiency, easier cleaning, higher automation, and a longer maintenance cycle. The SP series emulsifying machines of YeKeey are divided into two categories, they are SPA and SPC. SPC is a single piece of equipment with lifting, and SPA is more suitable for engineering installation. The equipment is equipped with internal circulation or external circulation high shear homogenizer installed at the bottom. The emulsifying tank is equipped with a two-way mixing paddle with a scraping wall as standard.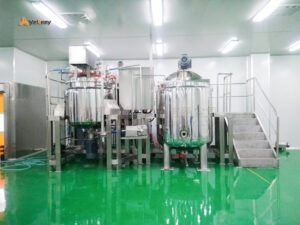 The more delicate emulsifying effect of this equipment can bring a more stable lotion. The cosmetics cream lotion produced by this equipment is easier to be absorbed by the skin. It is an ideal lotion and cream production equipment. It greatly improves the emulsifying process in the production of cosmetics. Higher emulsifying efficiency, self-cleaning, and a high degree of automation can greatly improve production efficiency, and save labor input and energy consumption. The longer maintenance period means that this emulsifying machine adopts a stable and reliable structure, which will bring great convenience to future maintenance. If you have any demand for cosmetics production equipment or want to know more about vacuum homogenizing emulsifying machines, please feel free to contact YeKeey!