In addition to pursuing high-quality products, modern salad dressing manufacturers also attach importance to production efficiency and economic benefits. These three support each other and are indispensable.  In order to meet the increasingly high demand for equipment in the market in recent years, food production machinery manufacturers have been continuously improving technology, research and development, and innovation. Batches of advanced food production machinery and equipment have been born in response to market demand. As for the emulsifying mixing machine included in the field of food sauce production equipment, the MC series external circulation vacuum emulsifier developed by YeKeey is one of the more successful ones, and it is much liked and recognized by customers in this field. The following emulsifying machine is the external circulation vacuum emulsifier for salad dressing ordered by a customer, and the staff of YeKeey is arranging the installation and commissioning work.
Emulsification is the core of salad dressing/mayonnaise/cauda sauce production and MC external circulation vacuum emulsifier. We adopt a production method based on the principle of pipeline online three-phase micro-emulsification, which can divide the oil and water phases into small The droplet unit than meets in the emulsification functional zone to complete the emulsification and mixing between the oil and water phase and the emulsifier. This design allows designers to specify the division of functional areas in the entire system, and better adjust and optimize the entire process. The MIXCORE complete vacuum homogenizing emulsification system can realize efficient mixing, homogenization, and dispersion, heating and cooling materials, and optimizing the powder feeding method. The innovative structural design makes it very suitable for handling high-viscosity materials and can work in pressure and vacuum environments. In a safe and hygienic equipment environment, we will create food products with better quality and better taste for you, efficient production, and high-quality products, allowing you to better seize market opportunities and create greater economic benefits for you!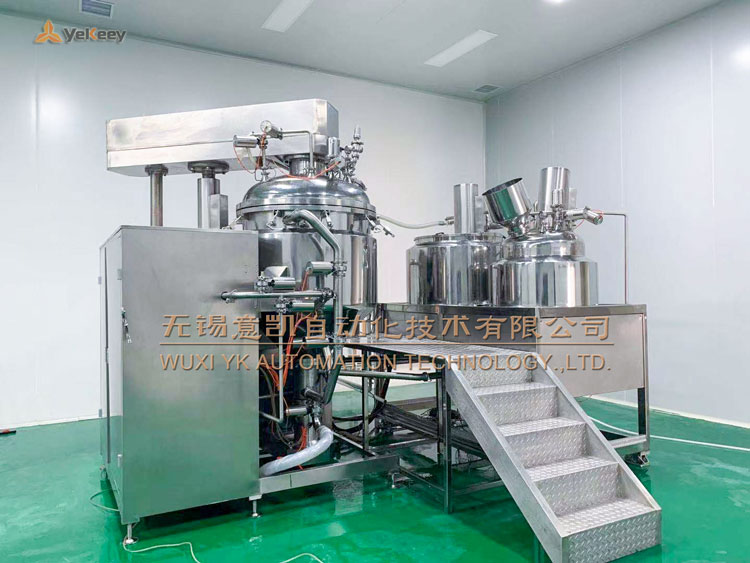 The installation of the salad production equipment ordered by the customer was carried out smoothly under the scientific overall planning, active cooperation, and reasonable scheduling of both parties. The customer's production department cooperated with the YeKeey emulsifying mixer manufacturer to overcome various difficulties and adopted measures such as segmented breakthroughs, cross construction, and key components to focus on key components to ensure the quality of installation and the progress of construction. After the installation of the main equipment and ancillary supporting systems has been completed, it has been steadily advancing in a tense, orderly, fast, and efficient state. In the end, all tasks were successfully completed within the specified time. This marks another solid step for client companies to enter the field of high-end salads and other sauces and food products. If you need to know about salad dressing production equipment, welcome to contact YeKeey, a manufacturer of various jam and pastry dressing production equipment. Our emulsifying machine has been exported to more than 100 countries and regions in the world and has won high praise from customers at home and abroad. Industry word of mouth expert!