Sauce production is a fast-growing and innovative category worldwide. New varieties of sauce products are constantly emerging all over the world, which puts high demands on your production and product innovation. In this regard, this MC series vacuum emulsifying machine is designed based on our professional food production and technical expertise, which can meet your diverse production needs. This vacuum emulsifying machine is a special equipment for the production of liquid or semi-solid sauces, such as mayonnaise, salad sauce, cassida sauce, ketchup and other baking sauces, pastry sauce, pet food, special medical food, and so on.

High Efficiency Food Sauce Emulsifier
The core of the MC series vacuum emulsifying machine is a recirculating homogenizer installed at the bottom of the tank. This structure has the characteristics of high efficiency of dispersion, fine and smooth emulsification effect, and shorten production time of the product, as well as improved the taste and stability of the product.
Unlike conventional emulsifying machines, the homogenizer of the MC fifth-generation high efficiency vacuum emulsifying machine is located below the main tank. There are multiple feeding valves around the homogenization chamber, powder and liquid can be sucked in the homogenization chamber and mixed immediately under vacuum to avoid agglomeration. It is fed into the main emulsification tank through a circulating pipeline after homogeneous shearing. The counter-rotating coaxial stirrer in the main emulsification tank will perform macroscopic mixing of the product, and then send it back to the homogenizer for further homogenization emulsification, continuously circulating emulsification.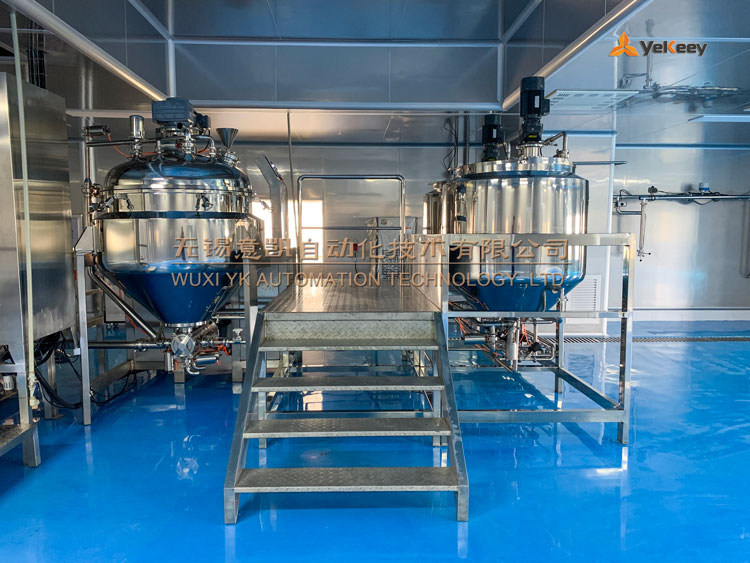 For the production of emulsion sauce, high viscosity sauces, and nutritional creams. The specific shear rate of the high efficiency recirculation emulsifier can achieve the desired product characteristics with high production efficiency. It can minimize the fat content and maximize the taste of your sauce products. Enable you to produce a wider range of safe and high quality sauce products with fresh flavors and colors. For sauce products, direct heating technology can achieve instant heating and cooling, minimizing heat load and retaining fresh taste.
The MC series vacuum homogenizing emulsifying machine comes in two styles. They are the flip cover homogenizing horizontal type and the hydraulic lifting homogenizing vertical type. The double-layer jacket equipped with the tank body can be heated or cooled using water or steam. Finally, the finished product is discharged through a recirculation tube installed at the output end of the homogenizer. During the discharge process, the homogeneous dispersion mode can be selected for further smoothing of the product, or the pumping mode can be selected to pump out under pressure without shear.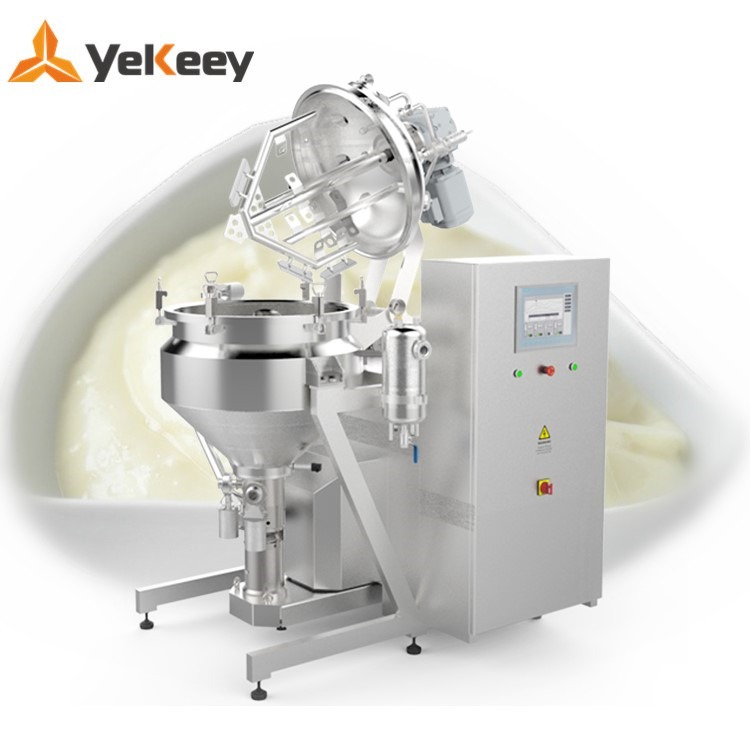 The production efficiency of the MC series vacuum homogenizing emulsifying machine is twice that of a regular emulsifying machine. Very friendly for the industrial production of food sauces. With our years of experience in the production of equipment for sauces, mayonnaise, ketchup, chocolate fillings, and pet food. We can find the best solution for your needs. Welcome to contact us for more information on the high efficiency food sauce emulsifier machine.