Mayonnaise is a kind of mixed food, which is composed of egg yolk, edible oil, salt, vinegar, and other materials, and a thick semi-solid sauce made of other seasonings. It is generally used in salads and other dishes. Mayonnaise is light yellow, moderately soft, viscous, and has a certain toughness. It has a refreshing fragrance and a strong aftertaste. The phospholipids in egg yolks have a strong emulsifying effect and can form stable emulsions. Mayonnaise first gives people a smooth and refreshing sour taste, and then the oil phase can be noticed.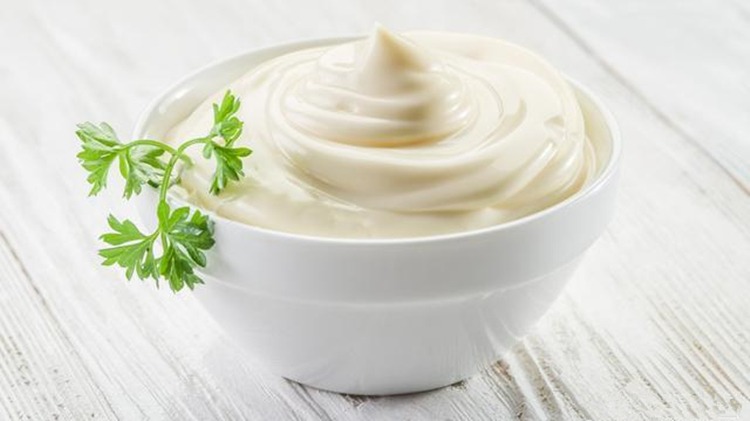 So what kind of production equipment is mayonnaise produced by? What role does this mayonnaise production equipment play in the production of mayonnaise? Let us find out together below!
Mayonnaise production equipment high-efficiency recirculation vacuum emulsifier
The MC series high-efficiency recirculation vacuum emulsifier from YeKeey is a high-tech food production equipment. It is different from traditional mixers or food processing machinery, so its principle is also different from these equipment or working methods. The high-efficiency recirculation vacuum emulsifier system can achieve efficient mixing, homogenization, and dispersion, can heat and cool the material, and optimize the powder feeding method. The innovative structural design makes it ideal for handling highly viscous materials and can work in both pressure and vacuum environments. MC series vacuum emulsifier is used to produce high-viscosity products such as mayonnaise, salad dressing, custard, sesame paste, tomato paste, bread paste, etc. It is also suitable for pharmaceutical, cosmetic, chemical, beverage, and other industries.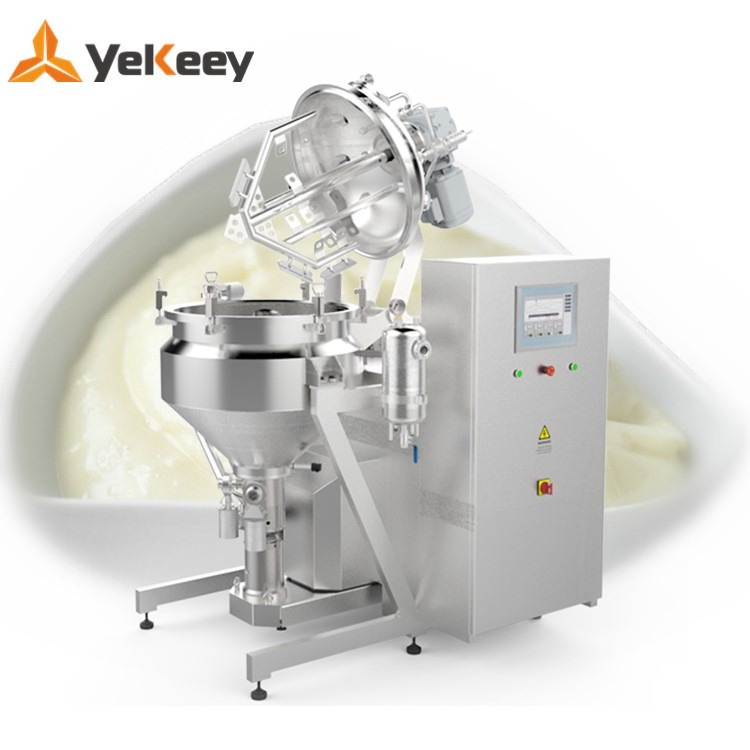 MC series high-efficiency recirculation emulsifier equipment, which uses advanced "recirculation emulsification" as the core technology of system design, and the equipment specifications cover experiments, pilot tests, and production. The MC recirculation vacuum emulsifier has many advantages and features and can meet the process and processing needs of various mayonnaise production. Almost all semi-solid products can be produced reliably, quickly, and with high quality by MC recirculation emulsifiers.
The role of high-efficiency recirculation vacuum emulsifier in the production of mayonnaise
In the production process of mayonnaise, the importance of an efficient recirculation vacuum emulsifier is self-evident. During the operation, the vacuum emulsifier can fully emulsify the mixture, making the combination of raw materials such as egg yolks, oil, salt, and vinegar more perfect. During the emulsification process, the vacuum emulsifier can perfectly remove oxygen from the mixture, preventing problems such as affecting product quality, deteriorating viscosity, and even spoilage. At the same time, the vacuum emulsifier also adopts the method of frequency change and speed change, which can make the mixture more uniform, finer, and more stable in quality.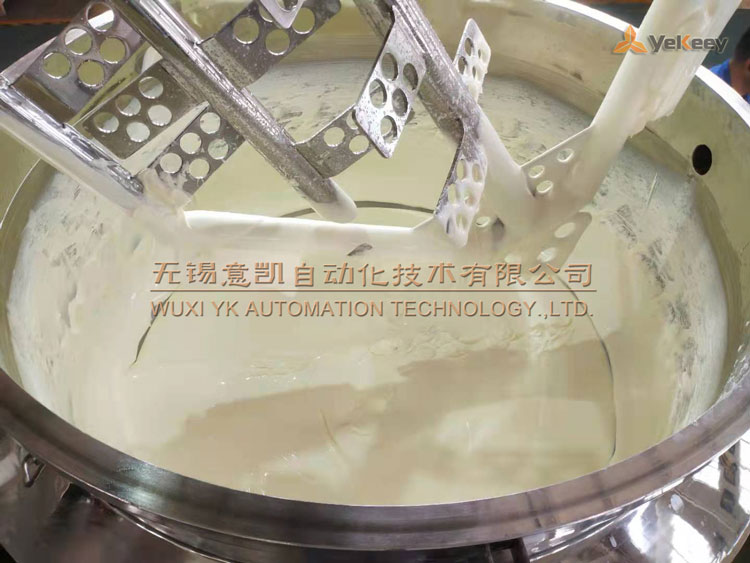 In the food processing industry, improving production efficiency and ensuring food safety are key factors for success, and the use of vacuum emulsifiers can effectively solve these problems. This equipment can make food purer and taste better. While improving work efficiency, it also dramatically reduces the work intensity of employees and enhances the company's production efficiency. In the processing industry, attention to food safety and human-machine coordination are of great importance to the public, and the vacuum emulsifier fully meets these characteristics and has therefore been widely used and praised.
In general, mayonnaise production equipment high-efficiency recirculation vacuum emulsifier is one of the very practical and important food production equipment. It operates on a unique principle and has several technical advantages. In the preparation of mixed foods such as mayonnaise, it can provide great convenience for subsequent processing, reduce the presence of impurities, improve the quality and taste of the product, and better meet people's requirements for health, deliciousness, and safety. The demand has promoted the healthy development of the food processing industry.
If you want to know more about mayonnaise production equipment, please feel free to contact YeKeey.