Pet nutrition paste is a semi-solid ointment produced through homogenizing emulsifying equipment. Pet nutrition paste is a product that supplements nutrition for pets. It is suitable for old and frail pets, those who are weak after surgery, and those who need to improve their immunity. Of course, it can also be used to supplement nutrients for healthy pets, which can make their skin and hair healthier and regulate their appetite. So what equipment is used to produce pet nutritional paste? How do you choose pet nutritional paste production equipment?

How do you select pet nutritional paste production equipment?
Choose a fully sealed emulsifying pot to prevent contamination problems.
Choose an emulsifying machine with a vacuum function. On the one hand, vacuum degassing can avoid oxidation or contamination of the product due to air. On the other hand, the vacuum pump can form negative pressure to suck the materials in the pretreatment tank into the main tank.
Choose wall scraping stirring and high shear homogenization, an efficient mixing mode to ensure a product mixing effect.
According to the process requirements, select an emulsifier with heating and cooling functions.
Choose an emulsifying machine that can measure and control temperature and pressure in real time.
Choose an emulsifying tank with a simple structure for easy cleaning and maintenance.
Choose an emulsifying machine that meets GMP standards.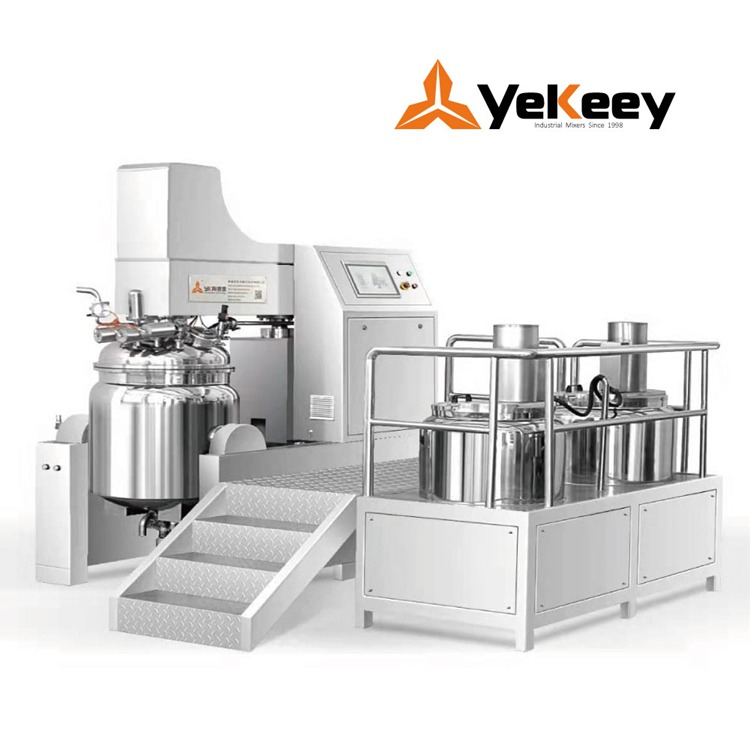 Pet nutritional paste production equipment
YeKeey keeps up with the development of the times and specially designed vacuum emulsifying machine equipment suitable for mixing and homogenizing in the production of pet food, especially pet nutritional pastes and other products. This equipment has the following advantages.
The principle of safety and reliability. It can be customized according to customer requirements using 304 or 316 stainless steel. The emulsifying system and cleaning system can meet pet food's health and safety requirements.
Benefit optimization principle. After the pet food materials are homogenized and mixed at high speed by the vacuum emulsifying machine, high-quality and delicate pet food is obtained, which is more suitable for pets to accept and absorb, greatly improving the quality of pet food. High-quality products will definitely bring more benefits to production enterprises.
The principle of economic applicability. The investment cost is low. Compared with expensive foreign equipment, the ZJR series vacuum emulsifying machine can fully meet the production needs of pet food, and the price is also moderate.
Energy conservation and environmental protection principles. Efficient production and low energy consumption are more in line with the sustainable development route of energy conservation and environmental protection and also save production costs for enterprises.
Wuxi YeKeey Automation Technology Co., Ltd. has been established for more than 20 years, Specializes in research & development, design, and production of emulsifying and mixing equipment that comprises lab mixer, emulsification mixer, vacuum emulsifying mixer, emulsifying homogenizer, high shear mixer, filling machine, liquid mixer, liquid soap making machine, mayonnaise making machine, etc.
In addition, YeKeey has been deeply involved in the emulsification industry for more than 20 years and has cooperated with many well-known pet food manufacturers at home and abroad. It has mature industry experience, strong technology, and stable equipment performance. If you have equipment needs, please contact YeKeey!