YK is a domestic high-tech enterprise specialized in the independent design, research and development, production and sales of cosmetic equipment. Since its establishment in 1998, it has always adhered to the development idea of "leading by science and technology and continuous improvement". At present the company has successfully entered the cosmetics production equipment industry first. In recent years, the company's products have not only achieved excellent results in the domestic market, but also attracted much attention in the foreign market.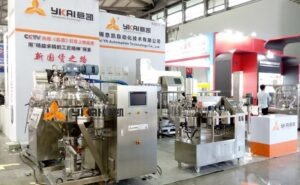 Just yesterday, we had the honor to receive a customer delegation from a Spanish cosmetics company. The main purpose of this visit is to inspect cosmetic machinery and equipment. Before coming to China, customers have had a good understanding of the equipment of ikai emulsifier. For the later cooperation, customers think it is necessary to check. So the customer yesterday to reach the company, personally inspected the company's overall size, production level, equipment entities and other aspects.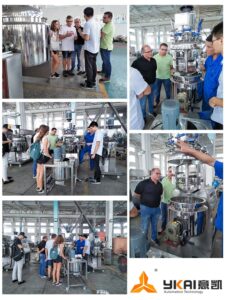 The sales staff of the company warmly received the foreign friends. Moreover, the salesman showed the customers around the production process of the whole factory. They introduced in detail the performance, advantages and characteristics of the yikai high shear emulsifier. According to the Spanish client, they did not know much about the products of YK. But after this field trip, through the staff's professional explanation and the actual operation. Customers have a deep and intuitive understanding of the high-shear emulsifier equipment in YK.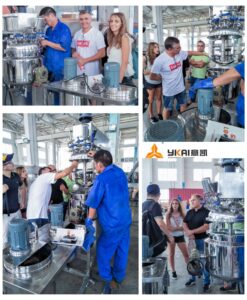 Some questions about the equipment were also answered satisfactorily in front of the object by the staff. After the overall visit, the customer thinks that the equipment of  YK's emulsifier is very comprehensive in function and mature in technology, which is suitable for the production of their cosmetics products. In the course of further negotiation, I wish the two sides early cooperation!