We are all familiar with wipes, especially after the outbreak of the epidemic, disinfectant wipes have become necessary daily disinfection products in many public places, homes, and travel. Wipes are generally composed of non-woven fabrics and wipe liquid, easy to use. The antibacterial disinfectant is the most important component of wipes, and it is very important in the production of wipes. How is wet towel liquid produced? What kind of production equipment is suitable for its production? Let's take a look at the set of anti-bacterial disinfection wipes liquid production equipment ordered by Shandong customers of YeKeey. It is composed of stainless steel vacuum dispersion mixing tank and several interim preparation mixing tanks.
MF-650 vacuum high-speed dispersion stirring tank is the key equipment in the production equipment of this set of antibacterial disinfectant wipes. According to the customer's production process, we provide customers with a complete set of production solutions, which can ensure the efficient, sanitary, and clean production of customers' wipes liquid.
Brief introduction of MF Series Vacuum dispersion mixing tank:
The stainless steel mixing tank can also be called a water phase tank, widely used in coatings, medicine, building materials, chemical industry, pigment, resin, food, scientific research, and other industries. The equipment can be made of carbon steel, stainless steel, and other materials according to the process requirements of the user products, and heating and cooling devices can be set to meet different process and production needs. The heating form includes jacket electric heating and coil heating. The equipment has the characteristics of reasonable structure design, advanced technology, durable, simple operation, and convenient use. It is ideal chemical equipment with less investment, fast production, and high profit.
Mf-650 vacuum dispersion agitator has the following advantages:
Choose high-quality stainless steel material to ensure that the equipment is durable and corrosion-resistant
A high-speed dispersion mixing system can quickly and efficiently let the customer's powder and liquid phase materials fully and evenly disperse and mix, forming a uniform finished product of wet towel liquid
A vacuum system can create a vacuum and sanitary closed environment for mixing, at the same time, it can vacuum to achieve the purpose of vacuum deformation, ensuring the stability of material properties
The mixing and dispersion system can be frequency controlled to flexibly adapt to the needs of the production process for revolution speed
In order to ensure the convenience of feeding, observation, and other operations, a very convenient mobile ladder platform is designed
The parts of the equipment are provided by high-quality suppliers at home and abroad to ensure the performance and smooth operation of the whole machine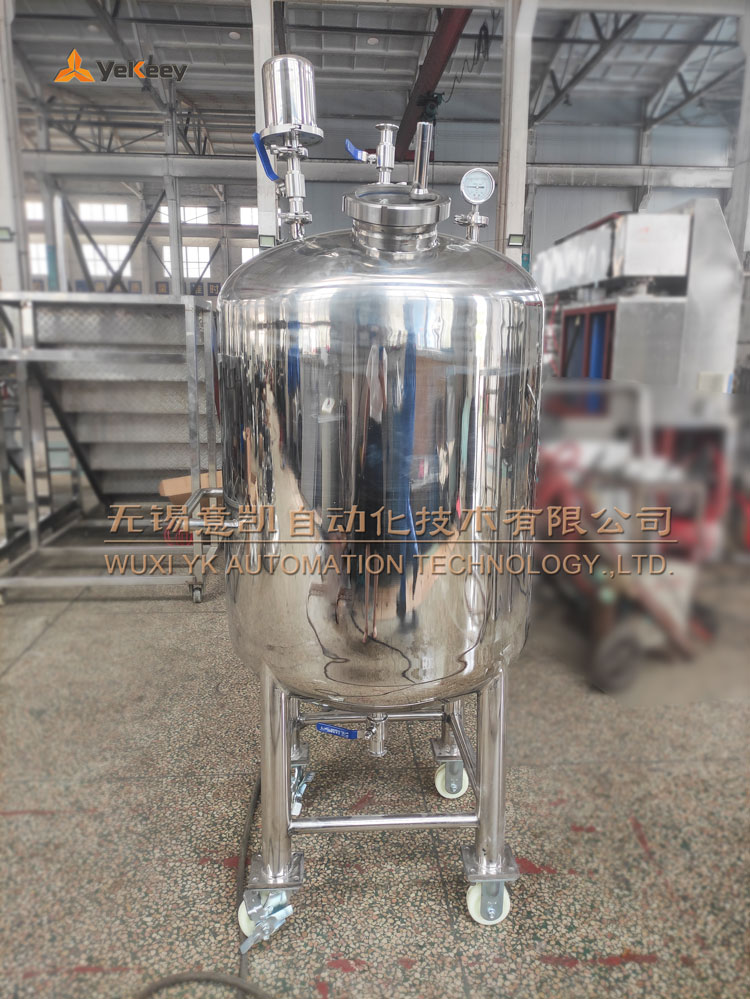 The customer added 2 standby transit preparation storage tanks, which can perfectly meet the needs of storage while discharging after dispersion and mixing. Similarly, the rolling wheel design of standby transit preparation storage tanks is very convenient for transferral and linkage of the two production processes. The standby transit preparation storage tanks can be added with electric heating, steam heating, and heat preservation structure according to the production process requirements. It has the advantages of sanitary storage, convenient cleaning, and reasonable structure. It is suitable for high-volume storage or intermediate buffer of various kinds of material liquid in dairy products, drinks, pharmaceuticals, daily chemical, grease, pigment, chemical industry, and other industries.
Stainless steel mixing tank is essential production equipment in the daily chemical industry. It is suitable for blending and mixing different materials, can achieve the purpose of mixing, dissolution, and mutual blending of mucus such as detergent, shampoo and bath liquid, etc. it is ideal equipment in the daily chemical industry. For more information about disinfection wet tissue liquid production equipment, welcome to contact YeKeey.
We have a rich and diverse advanced production solutions ready for our clients from home and abroad!