Since the launch of the fifth-generation laboratory emulsifier in Yikai in 2016, our orders have been occupied by laboratory emulsifiers. The first generation of laboratory emulsifiers has evolved into the fifth generation of laboratory emulsifiers. After five generations of technology upgrades, it has become a machine in the heart of laboratory research and development customers in the cosmetics, pharmaceutical, food, and chemical industries. How is it done? Let's take a look at where the eye-catching point of the small device is. The following small series introduces you from shallow to deep!

1.the appearance is simple and smooth
The proverb says "people rely on clothing and horses to lean on the saddle!" The old saying goes about the importance of appearance! In the same way, as an old manufacturer of high-quality emulsifier, not only must it be easy to operate, but we also have high standards for the aesthetic appearance of the equipment. We have won several national appearance patent certificates. The appearance of this fifth-generation laboratory emulsifier has been well received by customers.
2.Compact and reasonable structure
The frame is fully covered with 304 stainless steel and the coating thickness is up to 2mm, which is safe, hygienic and easy to clean.
The barrel platform is convenient for receiving and cleaning.
The electric lifting beam and the mixing system can be lifted out of the kettle for easy cleaning and observation.
Multiple sets of standard quick interfaces are reserved for use in solids, liquid additives, or other sensors.
Equipped with two pre-treatment pots, the pots are equipped with independent heating, temperature control and dispersion systems. The pre-treated materials can be directly pumped into the main kettle through negative pressure.
In addition, the pot is equipped with lighting to facilitate the observation of the inside of the pot, the industry's first standard LED light source, energy-saving while providing 150 lumens of illumination and more than 50,000 hours of service life.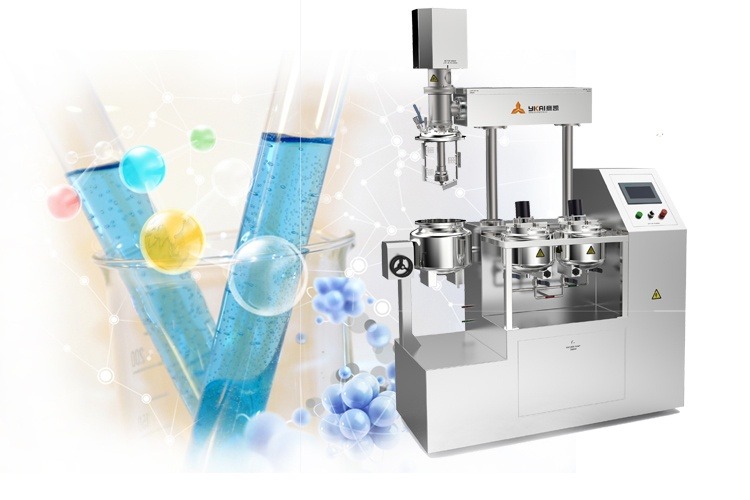 3.Functional integration
With the dumping function, the main pot can be turned down 120°, even if the highly viscous material can be easily drained.
Heating & insulation, the main pot has an independent heating and insulation control system, and a vacuum insulation layer is provided outside the heating system to prevent high temperature damage.
Stirring + ultra-high-speed homogenization, ultra-high-speed precision stator system (6000 rpm), with the cooperation of the Italian patented mixing system, can achieve a good homogenization effect. It is a laboratory equipment with good homogeneous emulsification effect.
The heating system, independent heating system, can precisely control the required temperature of each pot.
Vacuum, a vacuum system integrated in the equipment, can maintain the vacuum inside the kettle below -0.095MPa. So this device can also be called a laboratory vacuum emulsifier.