The 10 tons per day food ingredients project invested and introduced by the seasoning sauce manufacturer is under installation and commissioning. YeKeey engineers stationed in training to provide customers with intimate one-stop service!
It is understood that the retail market size of seasoning sauce is close to 30 billion, and it has maintained a compound growth rate of about 10% in the past 15 years. More and more food companies have joined the echelon of the seasoning sauce industry. Recently, a customer of a food seasoning sauce enterprise from Henan Food Industry Belt ordered a set of seasoning sauce production equipment from YeKeey. This set of equipment includes 2 SPA series external circulation bottom homogeneous emulsifiers with 2 processing capacities of 1 ton, 650L CG series stainless steel batching mixing storage tanks, 1 2000L temporary storage mixing tank, platform, pipeline, and a PLC touch screen control Central electrical control cabinet. At present, the complete set of equipment has arrived at the customer's factory site, and the after-sales technician of Yikai has arrived at the site to carry out installation and commissioning and operation training services for the customer.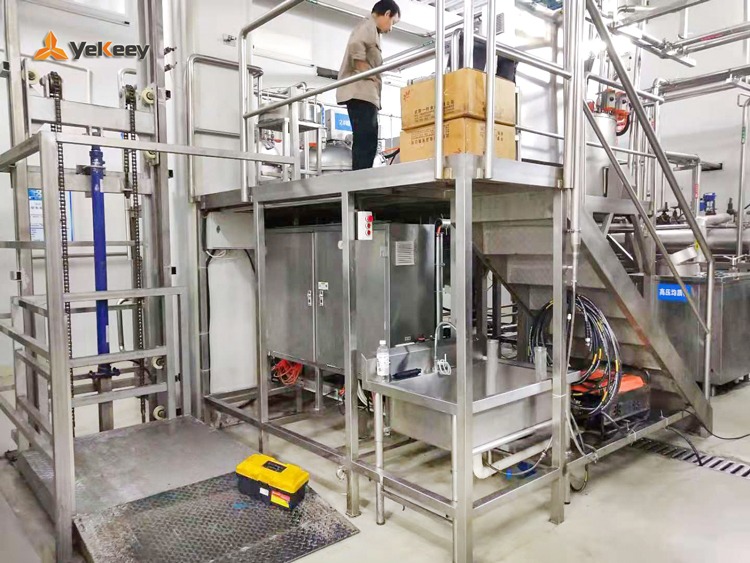 Introduction to the project of 10 tons of food ingredients per day
According to customer requirements, the material contacting parts are made of SUS316L stainless steel, two 1300 liters outer circulation bottom homogeneous emulsifier tanks, two 650 liters stainless steel mixing storage tanks, and a 2000 liters stainless steel mixing storage tank are installed in one platform, a central electrical control cabinet is used to uniformly control the temperature, speed, time and other parameters of these tanks. The heating method is steam heating. To facilitate material transportation, two-rotor pumps are equipped.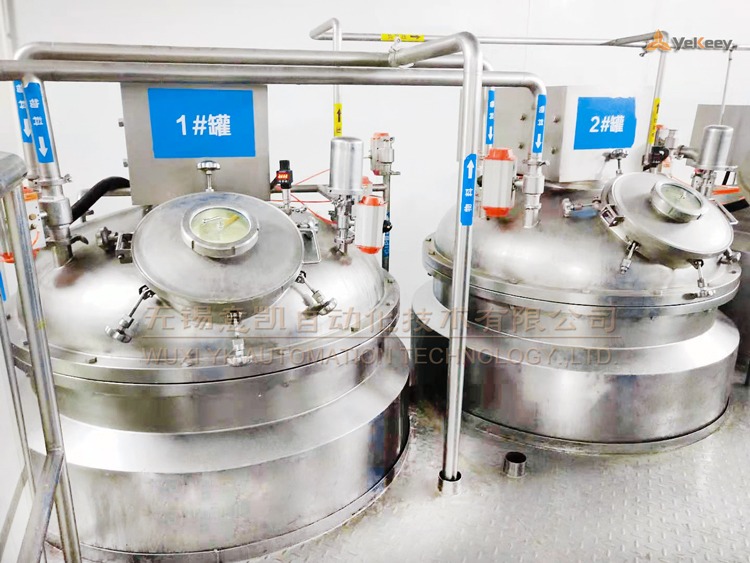 Introduction to the seasoning sauce production equipment
1、two 1 Ton External Circulation Homogeneous Emulsifying mixers
The full volume is 1300L, and the stirring in the emulsification tank is designed as spiral belt scraping stirring with spoiler. It can make the materials in the emulsifying tank stir more fully and evenly. The homogenizer is installed at the bottom of the emulsification tank and connected to the external circulation pipeline, which allows the material to be homogenized continuously from the bottom to achieve the recirculation and emulsification effect, making the material more delicate. Both homogenization and mixing can be adjusted by frequency conversion. Due to the large batch production, the customer adopted an efficient steam heating method.
2、two 650 liters stainless steel mixing and measuring storage tanks
The stainless steel ingredient stirring storage tank has a full volume of 650 liters with a single layer. The stirring method is spiral ribbon scraping and stirring. A dispersion stirring is added eccentrically. It is equipped with three hanging ears for fixing the pot body. For easy cleaning, it is equipped with a pneumatic Valve and 2 spray balls. In order to measure accurately, a weighing module is equipped according to customer requirements.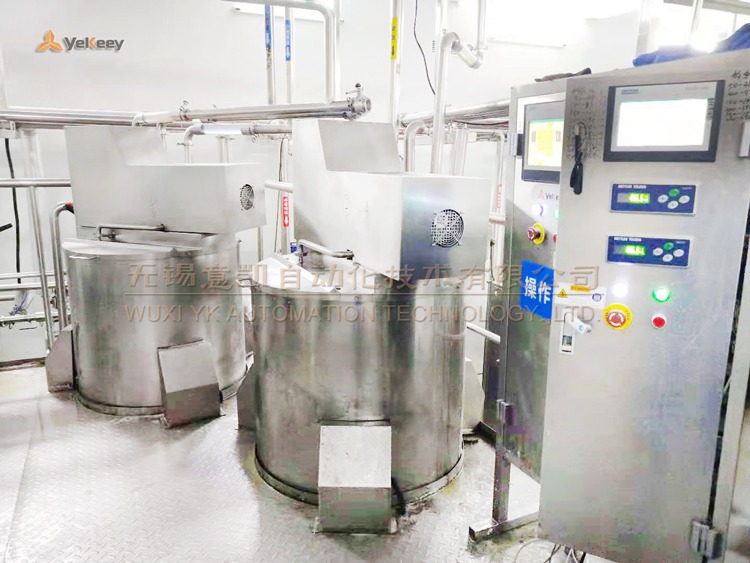 3、one 2000 liters stainless steel mixing storage tank
The stainless steel mixing pot has a full volume of 2000L, the tank is three-layered, and the inside is an anchor-type wall scraping mixing method, with frequency conversion speed regulation, and the pot cover is a movable flat cover. For easy cleaning, it is equipped with 2 spray balls.
In recent years, with the continuous improvement of the consumption level of residents, consumers have paid more and more attention to the brand, quality, and application scenarios of condiments, and are willing to pay more to obtain condiments with better flavor. This has brought about the consumption of high-end condiments year by year. With the increase, the condiment industry is showing a trend of upgrading its product structure to the high-end direction. The trend of diversification, health, and high-end condiments puts forward higher requirements on seasoning sauce production equipment. This set of highly versatile emulsification mixer equipment put into production by the customer brings advanced "dispersed emulsification technology" technology to customers. In the production process of seasoning ingredients, intelligent production will help customers realize the standardization of flavor of seasoning ingredients and overcome The traditional use of sensory to judge the flavor of seasoning ingredients will also bring customers high-quality, hygienic, and safe products with strong market competitiveness.