Vietnam is an important neighbor of China and an important country along the "Belt and Road". As a Chinese manufacturing company, Yikai Machinery has always had long-term cooperative relations with Vietnamese merchants. The company's equipment has been distributed throughout its regions. The set of external circulation emulsifier equipment ready for launch today is about to be used in the field of pharmaceutical R&D to develop some high-end drugs for customers. Lifting external circulation vacuum emulsifier is designed by Yikai Company for the research and development of high-viscosity and high-emulsification products for the cosmetics and pharmaceutical industries.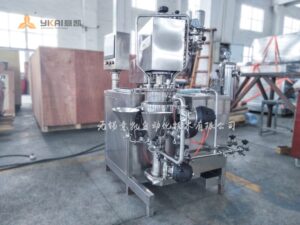 Aorking principle
The stirring method adopts the scraping wall anchor type spoiler, which can fully and uniformly stir without dead angle. The core of the unit features a uniquely designed rotor with pumping capability. At high speeds, the rotor produces a pressure of 4 bar, which meets the large flow required for cyclic homogeneous emulsification and CIP cleaning. At the same time, there are also low shear pressure circulation and mixing functions, and a variety of stator and rotor combinations are precise to achieve the best dispersion effect. In the feeding section, the solid liquid additive can be directly added to the dispersion chamber, and the mixing is rapid and complete, avoiding agglomeration. The machine uses an advanced automatic control system. The vacuum emulsifier is equipped with an advanced color touch screen PLC controller. This enables automated operation and monitors the entire process for full monitoring communication.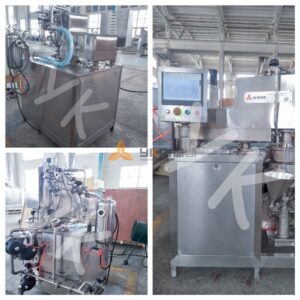 At present, our MC new lift-type laboratory emulsifier equipment for pharmaceutical research and development has been sent to Vietnam. Our technical consultants will also travel together. The external circulation emulsification production equipment will be installed and run smoothly under the guidance of our professional engineers. Yikai Machinery is willing to work with Vietnam and other like-minded countries to continue to work together to build the "Belt and Road" for the benefit of all peoples.