An old customer of a pharmaceutical company in Zhejiang ordered a LR series high shear homogenizer in our company in 2018. Through a period of experience, the customer feels good. Later, due to the needs of the establishment of the new company's ointment production line, we learned about the ointment production equipment. Finally, the customer ordered two sets of ZJR series vacuum emulsifiers in Yikai. Here, thank you for your trust in Yikai, and wish your company a prosperous future!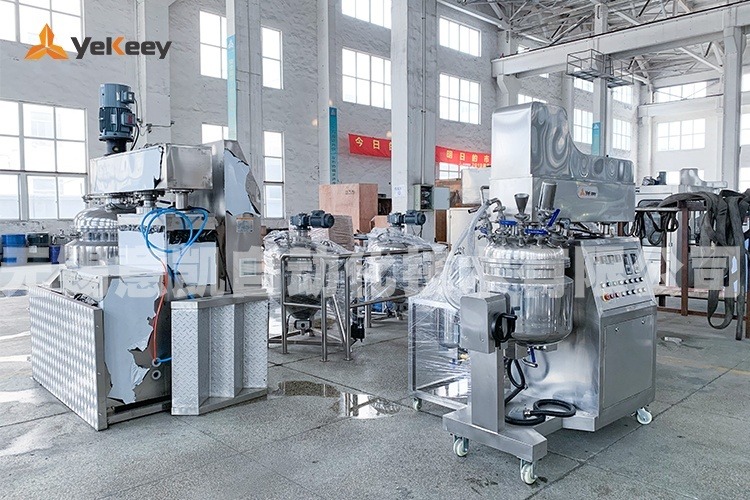 Product Name: ZJR-30, ZJR-250 Vacuum Emulsifier
Applications: In the pharmaceutical industry, vacuum emulsifiers are suitable for heating, dissolving, dispersing, homogenizing, shearing refining, stirring, emulsifying latex, emulsion, ointment (oint), oral syrup, gel, suspension, etc.
Materials: water, oil, powder small ingredients, active ingredients, etc.
Product introduction: ZJR series vacuum emulsifier consists of main emulsifier, rack, platform (with 150L or more platform) and water tank. The equipment can be temperature controlled, speed controlled, and vacuum stirred and defoamed. The homogenized agitating part of the main pot is a combination of homogenization, scraping wall and paddle stirring. High-speed homogeneous shearing shears the material to the nanometer scale. Stirring and paddle mixing can make the whole pot of material more fully and evenly stirred. The main pot and the water tank are designed in a reasonable way for the feeding and discharging, and the operation is convenient, and the cleaning and maintenance can be handled conveniently. This series of vacuum emulsifier is a cost-effective and mature ointment ointment production equipment.
Under the efforts of all employees of Yikai, the ointment emulsifier equipment was completed and entered the delivery stage. The production line of the new company will be sent to the Zhejiang customer. From the process of changing new customers to old customers, customers have no hesitation in choosing Yikai equipment! Thank you very much for your trust in Yikai. We believe that our equipment and services will bring you a good experience, so that you can use it with satisfaction!