The development of pesticide water emulsions abroad is relatively fast, especially in the UK. In 1993, the water emulsion dosage form accounted for less than 1% of the pesticide market, and in 5 years, that is, in 1998, the proportion has increased to 5%. China began to develop water emulsions in the early 1990s. In 1993, the water emulsion product phytosanitary (the active ingredient is triacontanol and copper sulfate) water emulsion obtained pesticide registration. In the 1990s, a series of new series of water emulsions such as pyrethroids, amides, organophosphorus, carbamates and heterocycles were developed. Compared with emulsifiable concentrates, water emulsions have high formulation technology and are more difficult to develop. It requires special emulsification equipment such as high-energy high-speed shear emulsifiers. At the beginning of development, people's awareness of water emulsions was not enough, and producers, distributors and farmers were not very accepting. Therefore, there were only 13 water emulsions registered in 1998, and only 30 water emulsions were registered before 2000.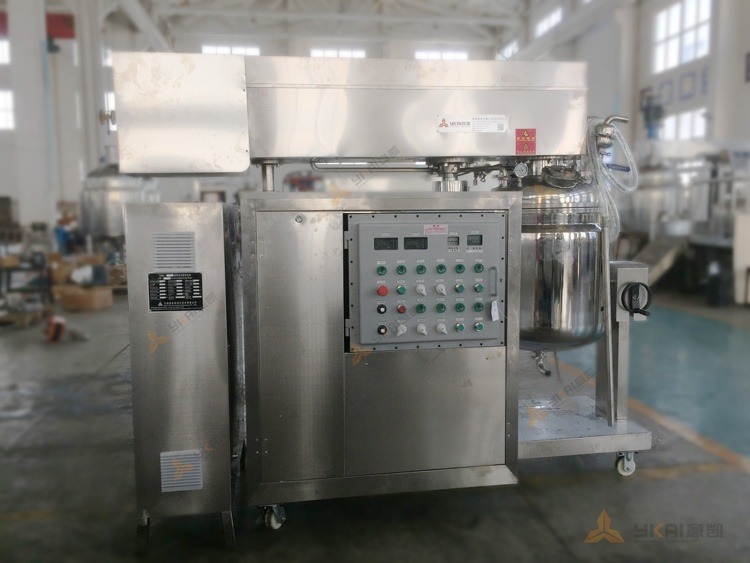 The high-speed shear emulsifier generally consists of a slow mixing system, a rapid homogenizing mixing system, a heating or cooling system, an upper cover lifting system, an inlet and outlet system, and a safety control system. At present, it is mainly used in the production of creams, creams, gels, and high-viscosity blends in the food, pharmaceutical, and other industries. Its high-speed shearing mechanical kinetic energy is also very suitable for the production of pesticide water emulsion. For water emulsion materials, homogenization, emulsification, shearing, mixing and dispersion can be carried out under negative pressure or positive pressure. With the increasing level of automation of emulsification equipment on the market, vacuum emulsifiers are more in line with the needs of the application industry.
If you need to know about the pesticide water emulsion production equipment – high speed shear emulsifier, please contact Yikai! Our company can customize explosion-proof pesticide high-speed shear emulsifier equipment!