One of the important equipment for silica gel production equipment is the dual planetary mixer. So what are the important equipment in the silicone production line? Here is the silicone filling and sealing machine required for the next process of filling silica gel after mixing, GFG-A.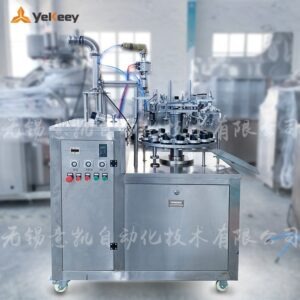 GFG-A silicone filling and sealing machine is developed by our factory for the purpose of filling silicone with metal hose according to the characteristics of silica gel. It is a special-purpose product integrating measurement, filling, sealing, printing and finished products.
work process:
When the power is turned on, the workbench automatically rotates and locates. Manually insert the metal hose into the indexing socket. When the empty pipe reaches the filling station and the photoelectric switch detects the material pipe, the material is quantitatively injected into the pipe through the metering pump. The tube is then automatically sealed, printed, and finished by a finishing station.
Structural features:
The machine adopts the automatic lifting servo filling method. Accurate filling and small measurement error. The machine adopts advanced technology and is filled with no tailing and drawing. The material does not solidify during filling and storage. The machine is bi-directionally folded to completely solve the tail leakage. The seal is beautiful and easy to operate. The machine has stepless speed regulation, measuring, filling, sealing, printing and launching once.
The silicone filling and sealing machine has been improved. It is available in semi-automatic and fully automatic. Customers can make targeted selection according to the production requirements. The filling range is from 5ml to 1000ml. There are 6 divisions to choose from. The mold can be customized according to the customer's specific conditions. For more information about silicone planetary mixers, filling and sealing machines, please contact us!