In the production of cosmetics, in order to ensure that the production conforms to the "Main Points of Inspection for Cosmetic Production License", the flow of materials, products and personnel between the factory and the factory shall be specified to avoid cross-contamination. Avoid mixing different types of cosmetic ingredients into pollution, or improper flow of people, tools, materials, air, etc., so that pollutants in areas with low cleanliness are introduced into areas with high cleanliness, causing cross-contamination. How do cosmetic devices prevent cross-contamination?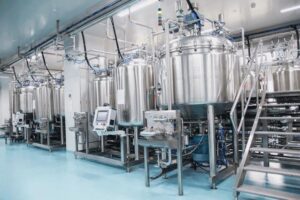 Maintenance and cleaning of cosmetic equipment
Material and performance of cosmetic equipment
The material, processing accuracy, tightness and management system of cosmetic equipment are related to cross-contamination. Therefore, when purchasing cosmetic equipment, especially key equipment such as batching tank, vacuum emulsifier, and filling machine, you need to be careful to purchase. To ensure that cosmetic machinery and equipment meet the hygiene requirements of cosmetics production. Therefore, it is necessary to rationally layout, improve the automation level of cosmetic equipment and form a linkage production line. Reducing operators and reducing the frequency of personnel activities are also necessary measures to prevent cross-contamination.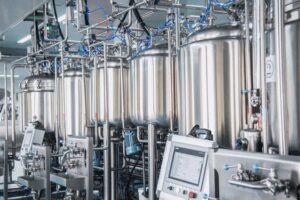 Procedures establish equipment cleaning management for anti-cross-contamination
It minimizes the risk of contamination and cross-contamination during the cleaning process.
The basic procedures for equipment cleaning must be strictly implemented:
Equipment, pipeline:
Pre-rinse one by one to remove debris – alkaline washing disinfection – one wash one row and one row of residual water
Tank
Pre-rinse one by one to remove debris – steam sterilization
Precautions for preventing cross-contamination equipment cleaning:
1.The container, equipment and pipelines must be washed with soft water before causing alkaline washing or steaming.
2.Before starting alkali washing or steam sterilization, it must be confirmed that there is no residue or debris in the tank.
3.For steam sterilization of the tank, the top cover must be covered to ensure the steam pressure and disinfection effect.
4.When performing alkaline washing and disinfection, a centrifugal pump with appropriate outlet pressure should be selected to ensure the disinfection effect.
5.Should pay attention to the cleaning and disinfection of the sanitary corner, if necessary, manually scrub or special cleaning, such as each valve, each hole door, sampling valve, liquid level pipe and other dead angles.
6.Wash the lye remaining on the tank wall and the ground during the alkaline washing and disinfecting operation.
7.While washing, water cleaning the tank top water seal, center hole and tank outer wall.
8.All cleaned tanks must be inspected by QA on-site supervisor before they can be used.