Customers from all industries often come to Yikai to test the machine. Other machines such as vacuum emulsifiers, high shear homogenizers, and planetary mixers are commonly used in test machines. The final customer's finished product is generally in a fluid state, such as a paste, a lotion, a gel, and the like.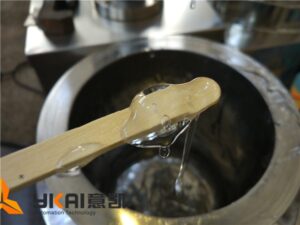 But we also came into contact with some very special finished products. For example, high-viscosity steam eye mask made of iron powder, high-end health care products made from tens of degrees, and materials for dentures. The process of some materials does not go the usual way, but in the Italian Kai has found the right machine. This time, the polymer crystal drug, the final product is a solid polymer crystal. However, through the Yikai ZJR-100 vacuum dispersion emulsifier, the finished product has reached the customer's requirements, and the effect is very good!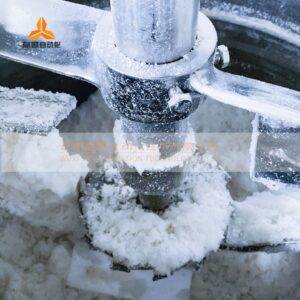 This kind of similar process we have had before. A well-known pharmaceutical research institute in China, they developed a new type of medicine. The process is similar to the test process. The active ingredients of the medicine are placed in the ethanol, and then they are fused by the dispersion stirring action of the vacuum dispersion emulsifier. Eventually the ethanol is evaporated and the finished product is in powder or crystal form. In the above test process, we used a homogeneous head. Although the finished product and the material processing time are very satisfied, the homogenized head part will be filled in the homogenizing head during the final product process, resulting in waste. Drawing on the last experience, this time we used a dispersive disk to avoid the last problem. The whole test machine is very smooth, the finished product is fully up to standard, and the customer is very satisfied!