Summer is hot, and Yikai production has entered a busy season. Today, the pharmaceutical GMP homogeneous emulsification production line equipment ordered by Zhejiang customers is shipped. The pharmaceutical production line contains 5 sets of equipment. A set of ZJR series design high-shear emulsifier with volume of 100L and 650L, a set of 1300L emulsion tank of MF custom series, a homogeneous external circulation emulsifier mixer of SPC series, and a set of MC series external circulation vacuum emulsifier . It contains the main equipment for the pharmaceutical homogeneous emulsification process and can be used for the simultaneous production of a variety of products.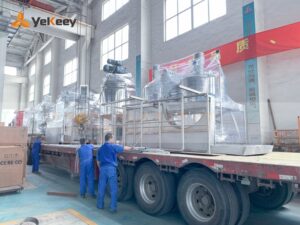 Field staff are busy loading equipment. In order to ensure that the customer's equipment can reach the customer's site in good condition, the workers carefully and carefully confirm the details of each person. To ensure that the equipment is not scratched and bumped.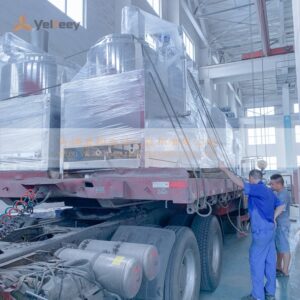 The truck shipped the equipment to the production site of Zhejiang Pharmaceuticals today. The company's technical guidance installation and commissioning personnel will also arrive at the scene to guide the installation of the production line. Strive to let customers start production as soon as possible.
For more than 20 years, Yikai has been focusing on customer requirements and continuing to operate. We continuously innovate and develop better homogeneous emulsification technology, and introduce advanced foreign technology to provide you with better quality production solutions. Constantly improve the after-sales service system, Yikai is a brand you can trust and rely on!High-shear emulsifier, emulsion tank, external circulation emulsifier, lower homogenizer, emulsifier, vacuum emulsifier, pharmaceutical homogeneous emulsification