Introduction to fat emulsion injection:
Fat emulsion injection is a common drug in the pharmaceutical industry. It is an oil-in-water (0/W) emulsion. Its prescription composition is usually vegetable oil, emulsifier, glycerin and water. Its preparation process generally has the following processes. Some substances (lecithin, etc.) are first added to the oil phase, and stirred and dissolved in a 75 ° C water bath. The remaining materials are then mixed with materials such as glycerin to prepare an aqueous phase. Then, the oil phase and the water phase are uniformly mixed, and then poured into an ultra-high shear emulsifier apparatus to carry out a high shear homogeneous emulsification process. Finally, a uniform and stable emulsion was obtained.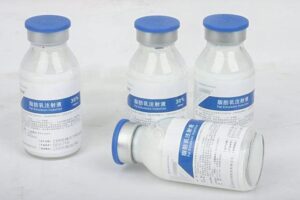 What are the difficulties in the preparation of fat emulsion injection?
For pharmaceutical preparations such as fat emulsion injections, the difference in physics is manifested in the emulsification of the emulsion and the refinement of the particles in the suspension. In general, the physical instability problem is only a change in the physical properties of the drug. However, the chemical structure of the drug remains unchanged. The smaller the particle size of the particles, the larger the reaction area and the more effective the effect. Therefore, the emulsification fineness and the degree of shearing are the difficulties and key points in the preparation of fat emulsion. At the time of preparation, it is necessary to arrange an emulsification shearing device with a good refining effect.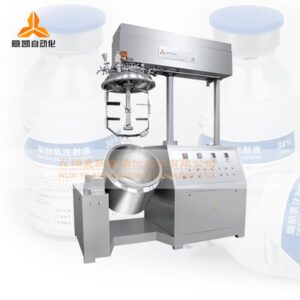 Yikai's advantage
Fat emulsion injection production equipment generally uses a high shear vacuum emulsifier. Yikai high shear vacuum emulsifier can choose the corresponding specifications according to the output. The machine can be frequency-controlled, stable and powerful, and is suitable for a variety of viscous materials. Two kinds of lifting modes, hydraulic and mechanical, can be adjusted to a variety of positions. The equipment is of general-grade explosion-proof configuration, safe and reliable, and easy to operate and maintain. The production continuity is strong, and the material can be quickly dispersed and dissolved. The dispersion effect is good, the production efficiency is high, the operation is stable, and the installation is simple. There are different powers and models for the consistency and handling of different materials. In terms of shear refinement, the German homogenization shearing technology used in the Yikai high-speed shear emulsifier can achieve nanometer scale of precision of the fixed rotor. It is well suited for product preparation where ultrafine particle shear refinement is required. For more information on equipment specifications, please contact Yikai!