1. The advanced/advanced recirculation and homogenization system significantly improves the efficiency
This is a typical vacuum emulsifier with fifth-generation emulsification technology. The efficient stator and rotor structure can directly suck the material into the homogenizing chamber. The raw materials are dispersed immediately after entering the homogenizing chamber. Then the material is returned to the emulsification tank through the circulation pipeline, and the undispersed material located above the emulsification tank continues to be sucked into the homogenizing chamber for shearing and homogeneous emulsification again, and the cycle is repeated. Compared with the traditional emulsifying mixer, this recirculation emulsification method can at least double the mixing efficiency.

2. The intelligent operating system makes the emulsification production process smoother
After the production is completed, is the washing pot of the emulsification pot still washed with hot water and brushed? This is too labor-intensive. YeKeey's fifth-generation emulsifying mixer is equipped with a WIP automatic cleaning system as standard, you only need to add water and detergent, Leave the rest to it, and it will automatically clean it for you. Even the intelligent operating system can help you do the metering. That's right. It can also be used when feeding quantitatively, and one person can handle the work of 3 people. The same amount of saving production time and improving efficiency also helps you save labor costs.

3. Energy saving and environmental protection
Yes, the power of the fifth-generation emulsifying mixer is indeed greater than that of the traditional emulsifier, but why does it save electricity? Although the power is greater than that of the traditional emulsifying machine, the greater power, due to the ultra-high emulsification efficiency, is under the same energy consumption. The production capacity of the fifth-generation emulsifying mixer far exceeds that of the transfer emulsifier. The same capacity can be produced with less energy consumption. At the same time, it is not only efficient but also saves space and height. Taking the emulsifier equipment with the same specification of 500kg as an example, the space occupied by the fifth-generation emulsifier is one meter shorter than that of the traditional emulsifying mixer. Higher efficiency, fewer people, more energy saving, this is the fifth generation of emulsification technology.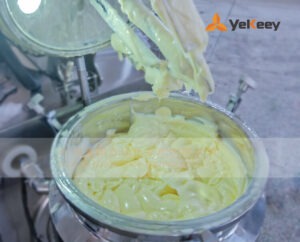 YeKeey MC series fifth-generation vacuum emulsifier is a highly integrated and multi-functional mixing and stirring equipment designed by introducing German homogenization technology. It can avoid some weaknesses of the traditional emulsification mixer equipment, greatly improve the efficiency of the emulsifying machine from the aspects of structural design and working principle, and can complete the emulsification and homogenization process of high-end products required by the application industry with high efficiency, cleanliness and low energy consumption. process.