After Spring Festival, many factories have started their production. Recently, a lot of customers have asked us about our equipment through Internet. Besides to customers engaged in pharmaceutical, food and cosmetic making, there are many customers asking about toothpaste making equipment. Some of them want to buy a toothpaste production line and consult our sales in detail. Here we list a sheet of toothpaste making equipment according to most customers' requirements for your reference.
Toothpaste production line
Toothpaste production line can be divided into small and medium scale production line and large-scale toothpaste production line. It usually contains homogenizing paste making machine, filling and sealing machine, inkjet machine, etc. Some large-scale production line will need cartoning machines. No matter large or small scale toothpaste production line , welcome to contact us for more professional information.
In a toothpaste production line , the toothpaste making is the most significant step. The quality of paste making machine will directly affect the final product. Here let's learn about the paste making machine.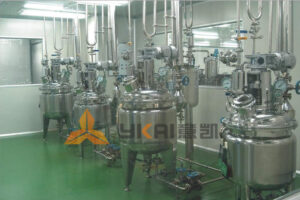 In the paste making system, all the contact parts are made of stainless steel 304 or 316. And our scientific design will provide you with a sanitary production environment.
The tank of paste making machine is sealed, and can mix materials in vacuum state. Usually the vacuum function will influence the homogenizing affection. YK's paste making machine can reach -0.095Mpa vacuum, so it can efficiently remove bubbles during mixing. Besides, our toothpaste making machine has the most professional mixing system. The system includes high shear homogenizer, middle mixer and frame-type mixer with scrapers running in the opposite direction. This mixing system makes the final product high-quality.
YK's high-efficient paste making machine runs stably, and is usually the core equipment in a toothpaste production line . This machine only needs a few workers nearby. And we can help you make every toothpaste high quality while the cost is rather low.