The busy shipping season. Today, one SP series 650L steam-heated SP series external circulation bottom homogenizing emulsifier of a Chilean customer has been refined and passed strict inspection before leaving the factory and remote inspection by the customer. We would like to thank our customers for their trust in our products and brands. We will continue to take quality as the core, insist on technological innovation, and create high-quality and high-standard products. At the same time, I would like to thank my colleagues who have been working on the front line for your hard work!
This customer is a large food processing manufacturer in Chile, mainly engaged in the production of food sauces, such as salad dressing, mayonnaise, and various pastry sauces. The design of the tank body of the 650L vacuum homogenizing emulsifier meets the needs of customers for output. A batch is exactly about half a ton, which is a popular specification in many food industries. Compared to smaller models, it is more cost-effective.
The SP series Emulsifying Homogenizer Mixer introduces foreign technology and is professionally designed according to the ointment process of food, cosmetics, and ointment products. This unit consists of a pretreatment pot, a vacuum homogenizing mixing pot, a vacuum pump, a hydraulic system, an electrical control system, and a working platform The machine is composed of simple operation, stable performance, good homogenization performance, high production efficiency, convenient cleaning, reasonable structure, less floor space, and a high degree of automation.
◆The continuous working capacity is large, and the material can be uniformly discharged in a cycle, which is especially suitable for the continuous processing of single-variety products;
◆Simple operation and use, better emulsification and homogenization;
◆Homogeneous sealing structure overcomes the problem of common sealing leakage;
◆The homogenizer makes the material suck in from the bottom of the pot and passes through the homogenizer when the homogenizer is in the state of external circulation homogenization.
◆Under the strong dispersion and centrifugal action of the homogenizer, the material is sent to the upper part of the pot through a specific pipe to homogenize the material in circulation. This homogenizer can make the material reach an emulsification capacity of 3 times/min during high-speed homogenization.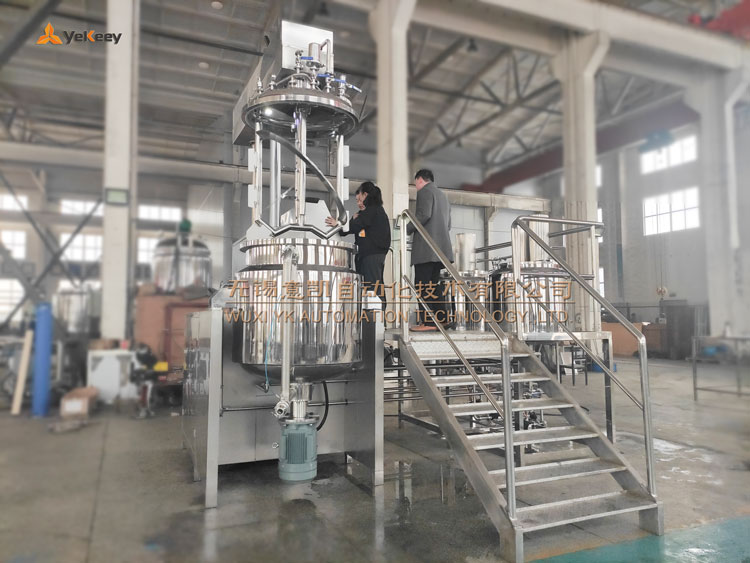 YeKeey is well-known in the industry because of its reputation for integrity and quality. It depends on the trust and support of our customers, partners, and employees. Our food sauce production equipment has been widely used in large and medium-sized food companies in many countries in the world. We will continue to work hard, continue to pursue high quality and service, and create a warm and open, sincere cooperation, and a win-win atmosphere. We are willing to continue to work together with famous domestic and foreign enterprises, industry colleagues, strategic partners, etc., and seek common development! We have a professional R&D team, which will help customers avoid unnecessary troubles and losses. Welcome to contact us once you need such food sauce industrial emulsifying mixers or you need any solution for food sauce products.