Is The Laboratory Emulsifier A Better Choice with Less Test Material and Lower Price? Have you considered what to do in the later pilot and production stages?
In our impression, laboratory research and development are generally done by hand stirring in a beaker, which is really convenient, flexible, and saves materials. But have you considered the mass production after successful research and development, what to do with the big jars in the later stage? How do deal with the amplification effect of the pilot tests and mass production? Therefore, not only should the pilot test be done well, but also pay attention to whether your post-processing method can be carried out in the pilot test. It cannot be done just to make things, but also to consider the feasibility of later pilot and large-scale production operations.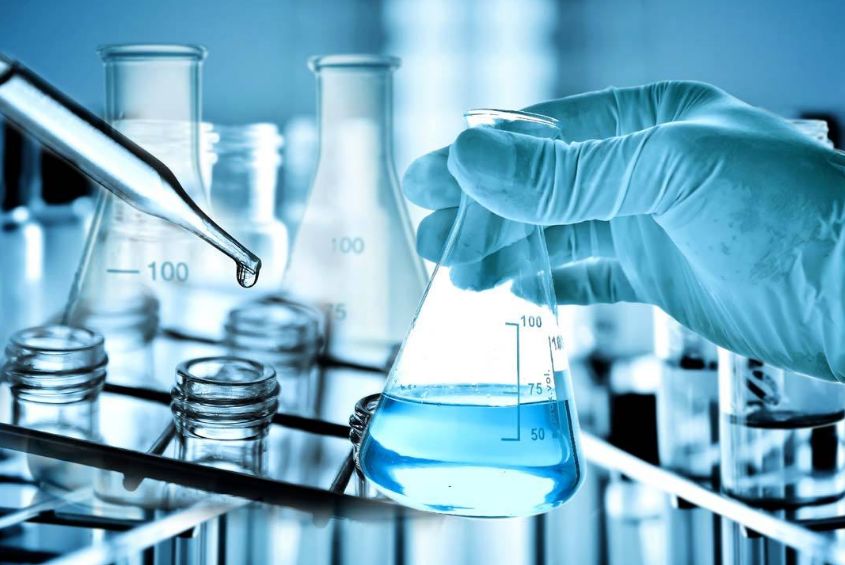 Choose the Most Suitable Emulsifier
YeKeey has designed various styles of lab mixing machines for different processes in various industries. There are single shear homogenizing mixer types, multi-functional vacuum emulsification types, and high-speed dispersing mixers suitable for high-temperature and high viscosity materials. Today, we will introduce the best-selling multifunctional laboratory vacuum emulsifier. With this equipment, there is no need to worry about the amplification effect. Our pilot-scale and large-scale production equipment of the same series are based on this laboratory emulsifier for the same proportion of amplification and matching.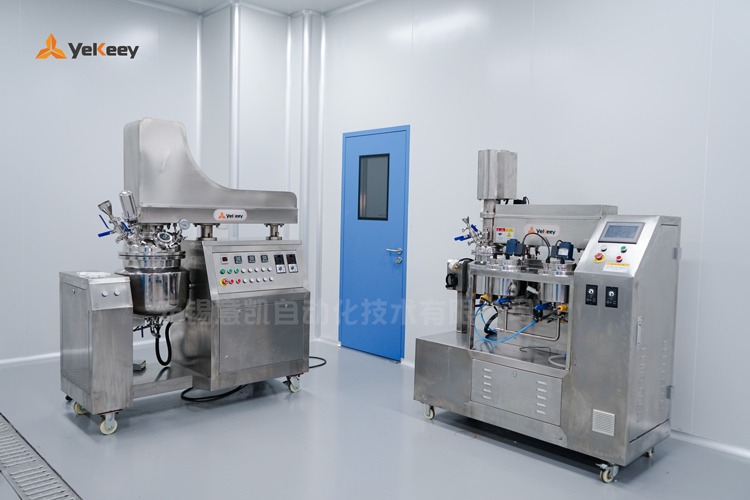 Laboratory Emulsification Machine
Like the structure of the pilot-scale and production-type emulsification machines, this laboratory emulsification machine is also composed of a main emulsification tank, a water-oil pan, a homogenizing stirring system, a vacuum system, heating and cooling system, and a control system.
The frame is fully clad with 304 stainless steel, and the thickness of the cladding layer is 2mm, which is safe, hygienic, and easy to clean.
The barrel platform is convenient for feeding and cleaning.
The main pot has an independent heating and heat preservation control system, and the heating system is equipped with a vacuum insulation layer to prevent high-temperature damage. Several sets of standard quick connectors are reserved on the lid of the pot, which can be used for the input of solid and liquid additives or to connect to other sensors.
This laboratory emulsifier adopts the sixth-generation emulsification technology, the ultra-high-speed rotating precision stator and rotor system, which can run stably at 6000rpm, and cooperates with YeKeey's patented technology – a single turn developed by a small laboratory emulsifier. The new type of screw-belt stirring paddle can scrape the wall more thoroughly, which can achieve a good homogenization effect and evenly stir the whole volume without a dead angle.
The stator and rotor system can be replaced. In modular design, according to the characteristics of the materials to be made, the stator and rotor systems of different structures can be selected to achieve good seasoning effects.
Equipped with two pretreatment pots, which are equipped with independent heating, temperature control, and dispersion systems, the pretreated materials can be directly pumped into the main pot through negative pressure.
The mutually independent heating systems can precisely control the required temperature of each pot separately.
The vacuum system is integrated with the equipment, which can maintain the vacuum degree in the kettle below -0.095MPa.
The stirring system can be lifted to the outside of the kettle as a whole, which is convenient for cleaning and observation.
There are two ways of discharging, bottom valve discharging and dumping discharging, the main pot can be turned down at 120°, and even the highly viscous materials can be easily discharged.
The simple and easy-to-use innovative emulsification control system is developed in a laboratory environment, and various parameters are easy to adjust and record.
Standard LED light source, which can provide 150 lumens of illumination and service life of more than 50,000 hours while saving energy.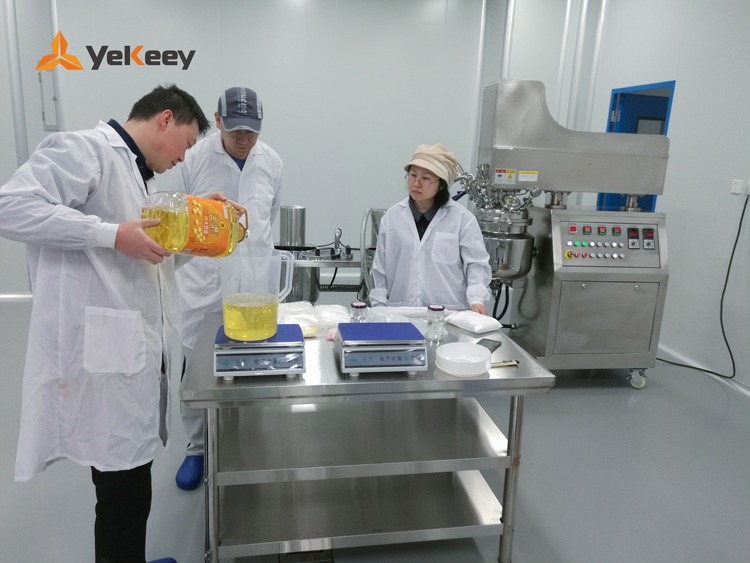 This laboratory homogeneous emulsification machine is widely used in food, pharmacy, cosmetics, chemical industry, university teaching, various research institutes, and technology research institutes. As a partner who can quickly respond to market changes, YeKeey can provide customers with full support from the first product concept to industrialization, helping customers put their ideas into practice. YeKeey's Class 100,000 purification laboratory is a space to try out new ideas. Here, customers can test and experience the machine in a laboratory equipped with professional equipment, while customers also receive expert advice and support on technical equipment. Contact us to learn more about emulsifying machines!