A set of laboratory vacuum emulsifier ordered by taizhou customer is finished before the delivery date and ready to be packed and sent to the customer. Model number is ZJR-5, control mode is button control. The equipment will later be used in cosmetics laboratory development, using 304 stainless steel materials. The machine is equipped with a pretreatment water oil pan, and a main emulsifying pan that can be used in the laboratory for dispersing, mixing, emulsifying, homogenizing, and dissolving. It can observe the reaction process of stirring, homogenization, emulsification, dispersing and mixing of materials through the window under the condition of vacuum or pressure.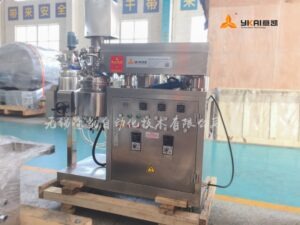 During the operation of the equipment, the temperature of the emulsification pot, the water tank, the dispersion speed, the homogenizer speed, and the stirring speed can be controlled by the button control panel. Speed can be frequency-controlled. The finished product discharge can be discharged through the bottom valve or the pot body can be dumped. This is easy to clean.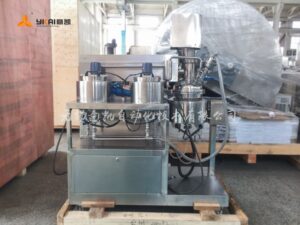 Application range:
– Preparation of cheese, lotion, lotion and fat in the pharmaceutical and cosmetic industries
– mixing solids such as calcium carbonate, talc, titanium oxide, etc. with the emulsion
– mixing additives and solid polymers with mineral oil
– Grinding and dispersing solids and fibers in liquids and polymers.
The laboratory vacuum dispersing emulsifier can simultaneously measure the temperature and pressure of the material. The material can also be heated or cooled. This small vacuum emulsifier is ideal for cosmetic laboratories. Homogeneous speed can be frequency conversion speed range: 0-3000rpm, speed display mode: digital display, mixing using triple mixing mode, namely frame type scraping wall stirring, paddle mixing and center homogenization. Excellent in uniformity and fineness for optimum mixing and mixing.