A pharmaceutical r&d company in Shanghai is committed to the r&d of API, preparation technology and industrial outsourcing service provider. The company has advanced pharmaceutical synthesis, preparation and analysis test research and development center, equipped with D – class clean room and stability laboratory. Today YK has introduced a set of pilot – type pharmaceutical liquid preparation equipment. This includes a complete set of equipment for a ZJR-30 vacuum emulsifier and a MF-20 dispersing agitator. Now both sets of equipment have been completed. After passing the inspection, they are ready to be packed and sent to the customer pharmaceutical r&d center in Shanghai.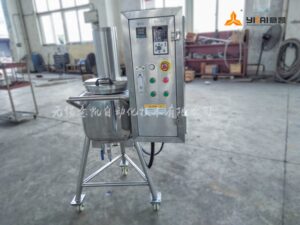 MF stainless steel stirring pot, made of 316 material. Because it is used for stirring the liquid medicine, the pot body adopts the cover with flat cover, which is convenient to add materials and check the stirring situation in the pot. The boiler body stirring, heating and speed control can be operated on the button control panel nearby, which is very convenient. The pot body adopts triangular mounting bracket, the force is even and stable, and the bottom is installed with casters, which can be moved easily. The discharge port is at the bottom of the pot body and can be connected with a hose to transfer the material to another container.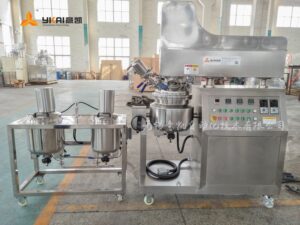 The ZJR-30l vacuum emulsifier is also made of 316L stainless steel and is equipped with a water and oil pot according to the customer's pharmaceutical standards. The equipment can pre-heat, disperse, stir and dissolve the raw materials, and then enter the main pot through vacuum suction before mixing and stirring. The main pot adopts triple stirring method, which can refine and shear the material. At the same time, homogeneous stirring can be carried out under vacuum state. The wall scraping stirring method allows the material to be stirred without any dead Angle, and the 360 degree stirring is more uniform.