The lifting method of vacuum emulsifier generally adopts two methods of electric lifting and hydraulic driving. The hydraulic lifting method is more common in large-scale industrial production emulsifiers. YeKeey's vacuum emulsifiers have unified procurement of hydraulic lifting methods from 150L and above specifications. Tonnage-level emulsifiers generally use double-cylinder hydraulic lifting methods. Therefore, hydraulic lifting emulsifiers are more common in YeKeey's emulsifiers. Sometimes, YeKeey's after-sales department will receive inquiries from customers and after-sales inquiries about some failures of the hydraulic system. Today, the editor of YeKeey will introduce to you the analysis and treatment of common vacuum emulsifier hydraulic system failures.
The cause analysis of the failure of the hydraulic transmission system of the vacuum emulsifier:
  According to relevant statistics and our experience, 70% to 80% of hydraulic lifting failures of general emulsifiers are caused by the pollution of the contamination of hydraulic fluid. Pollution sources include the following categories: solid particles, water, air, chemical substances, microorganisms, and energy pollutants. Different pollutants will cause different levels of harm to the system. If the temperature of hydraulic transmission oil is too high, the hydraulic seals will deteriorate and the hydraulic oil will be oxidized to be ineffective, causing corrosion and deposits, and even blocking the damage of the orifice and acceleration valve. Excessive degrees of Celsius will cause the valve, If the pump is stuck, the continued high temperature will cause safety hazards.
Solution:
Practice has proved that improving the cleanliness of the system oil is an important way to improve the reliability of the system and it must be done carefully. If there is a problem with the hydraulic transmission oil of the machinery and equipment, you can also focus on the following key points:
a. First check the surface cleanliness, color, viscosity and consistency of the hydraulic oil, and smell it if it is normal.
b. In the hydraulic lifting system of the emulsifier, checking the oil temperature in the hydraulic oil tank on time can effectively prevent the occurrence of more serious damage and make it clear before the system fails.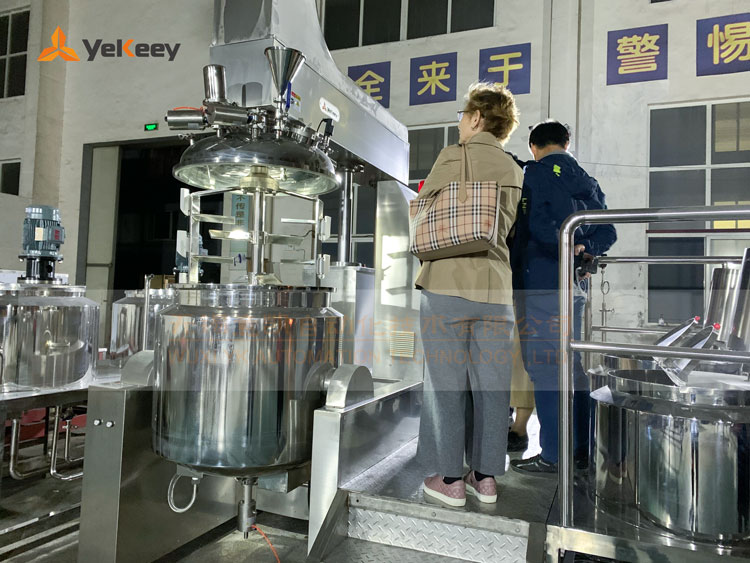 Hydraulic lifting vacuum emulsifier equipment is often exposed to different degrees of external damage, such as smoke, dust, and high heat. In order to fully guarantee and exert the working efficiency of the emulsifier equipment, reduce failures, and extend the service life, regular inspection and maintenance must be strengthened to keep the equipment in good working condition. Replacement or supplement of working fluid in hydraulic oil tank.