The vacuum emulsifier is a multifunctional integrated emulsification system. The efficiency of the vacuum emulsifier is relatively high when dealing with materials with complex processes, especially when dealing with materials with high batch yields, its efficiency is more significant. The vacuum emulsifier system is generally used to handle the processes of uniform dispersion, homogenization, emulsification, stirring, particle size shearing, and defoaming of multiphase materials in cosmetic, daily chemical, food, pharmaceutical, and chemical industries. The working principle of the vacuum emulsifier machine is to perform high-speed shearing, dispersion, homogenization, emulsification, and mixing of the liquid materials that need to be mixed and stirred through the mechanical kinetic energy provided by the ultra-high-speed moving stator and rotor homogenizer and the agitator.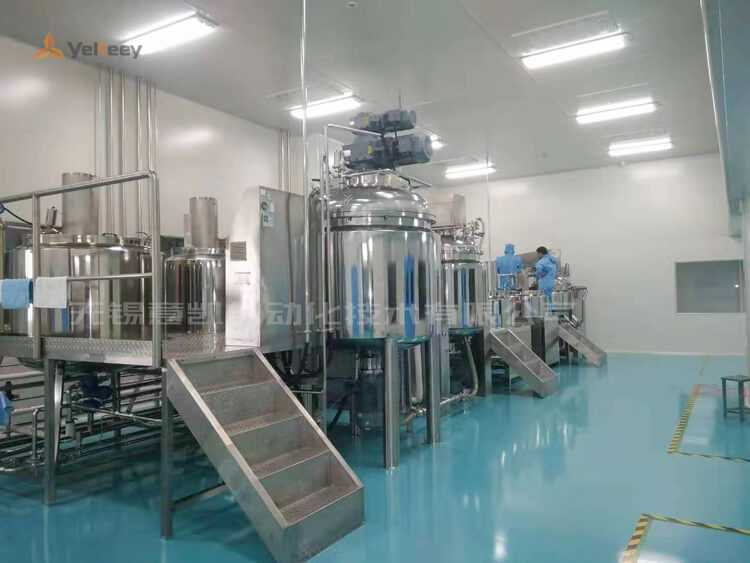 Traditional Emulsification Mixer Equipment VS YeKeey Vacuum Emulsifier
When using traditional emulsification mixer equipment, due to the single function of the equipment, multiple sets of equipment are required to complete the complete process such as heating, dissolving, stirring, homogeneous emulsification, cooling, and defoaming. Such a combination often brings many problems. Such as high equipment cost; large area; complicated procedures; materials are easily polluted during multiple transfer processes; at the same time, material losses are caused; traditional mixing tanks can provide insufficient mechanical kinetic energy and insufficient shear force, It also often causes the product to have large particles, uneven stirring and dispersion, bubbles, and uneven texture, which makes it difficult to guarantee the quality.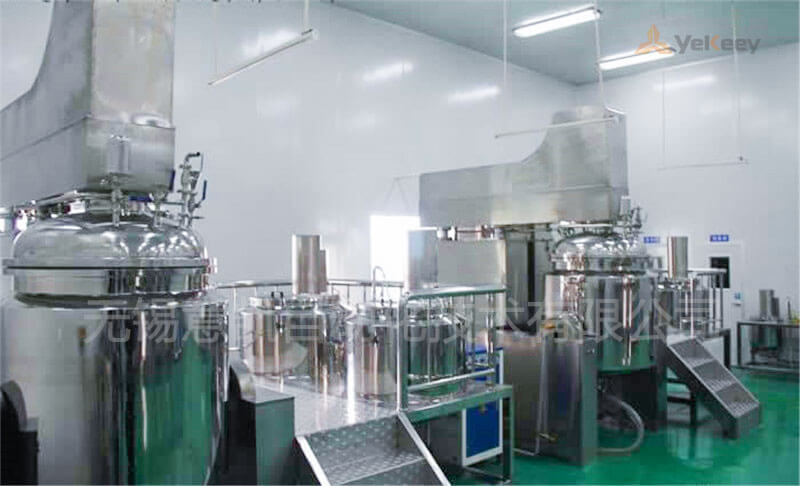 In the cosmetic, daily chemical, food, pharmaceutical, and chemical industries, products' quality mainly depends on emulsification equipment's production effect. Therefore, you must choose carefully when purchasing emulsifier equipment. YeKeey vacuum emulsifier is a highly integrated and multi-functional mixing and stirring equipment designed by introducing German homogenization technology. It can avoid these problems of the above traditional emulsification mixer equipment, and can complete the emulsification and homogenization process of high-end products required by the application industry with high efficiency, cleanliness, and low energy consumption.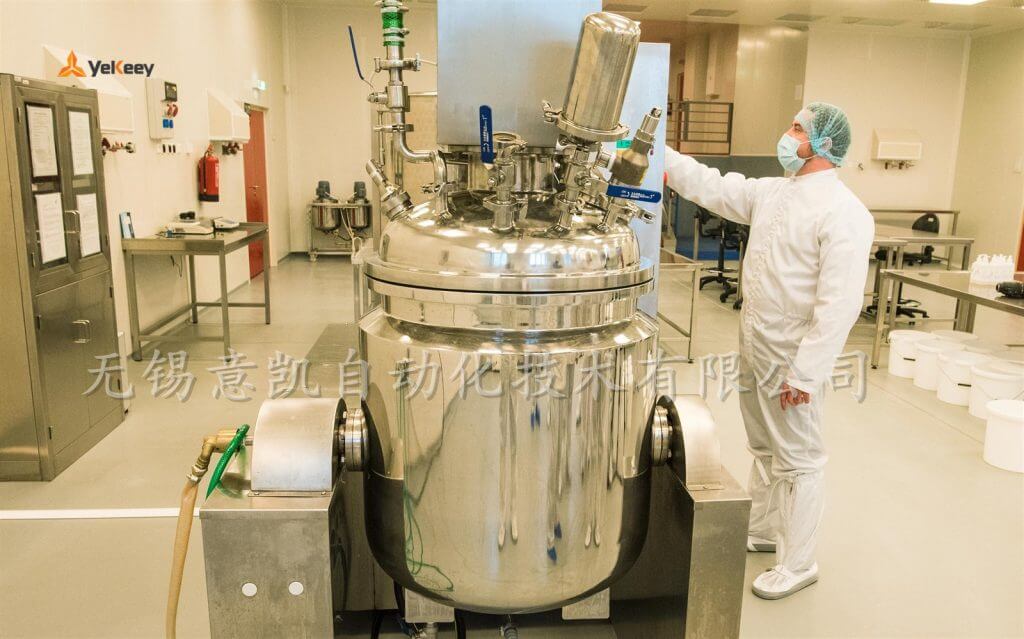 Advantages of the integrated full-featured :
Easy to use. The start-up of the equipment, the adjustment, and setting of functions such as temperature, speed, and the lifting and lowering of the lid can all be operated on the control panel.
A small footprint can better plan and layout the workshop.
The transfer of materials can be carried out through pipelines, and material loss and environmental pollution are kept to a minimum.
Maintenance work is simple.
High level of safety production. In a closed system when the equipment is running at high speed, and personnel does not come into contact with the mechanical transmission system, industrial accidents can be minimized.
YeKeey is a company specializing in the development, manufacture, and sales of fluid mixing equipment. We have a high-level team in the field of fluid homogenization, emulsification, dispersion, mixing, and other mixing equipment, and provide non-standard customization from a single machine to a complete production system. Continuously integrate advanced mixing and stirring technology, insist on innovation, and provide customers with high-value-added products. Serving in the fields of energy, chemical industry, food, biomedicine, etc., the equipment can be customized according to the customer's process and needs. For more information about vacuum emulsifiers, please contact us!