With the scorching summer, the scorching sun, our business elites have become more and more courageous. Recently, good news has spread frequently. YeKeey sales have also entered the peak season. Single orders have followed, especially with the recovery of foreign trade and international business. During May and June, our factory received a large number of orders, for example, high shear mixer, emulsifying machine, lab mixer, stainless steel mixing tanks, storage tanks, filling machines, and other equipment from customers domestic and abroad.
YeKeey has set a new record for monthly sales orders. The surge in industrial mixers orders has brought about a heavier production burden. In order to guarantee the customer's delivery time and the product quality, faced with heavy order production tasks, the workshop workers gave up their rest time, rationally deployed personnel, worked overtime every day, and worked hard to be at the forefront of production. While continuously improving product quality, the goal was to meet customer needs and work overtime to meet the needs of customers. In the scorching sun and scorching heat, support is on the front line of production.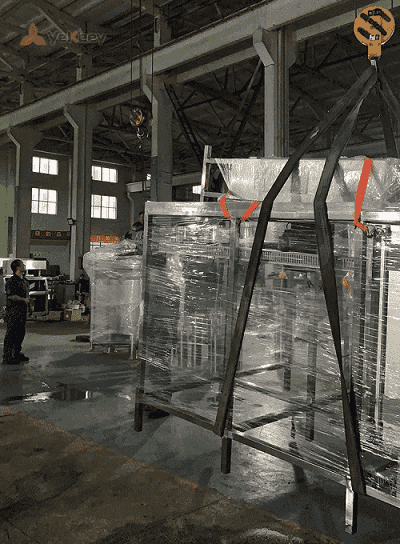 Recently, more than 3 million industrial mixers orders ordered by YeKeey foreign customers have been completed one after another. Since the several sets of equipment ordered by customers are large tonnage-level emulsifying mixers, mixing tanks, and other types of equipment, this equipment have been arranged to be shipped in a centralized manner, which has led to heavy packing and loading tasks. In order to ensure the timely shipping schedule of customers, on the evening of July 17, the leading team of YeKeey led the staff of the delivery team to fight on the front line of delivery and take the lead in supporting them. They used the off-duty time to help deliver the emulsification machine and other equipment. The cadres on duty Participate in the night, ignoring the exhaustion of the day, and work for one night, and then devote themselves to the intense work the next day. Full work enthusiasm floods the entire production workshop.
Up to now, dozens of machines have been shipped in June and July. Everyone is passionate and striving to be the first, which has effectively guaranteed customer needs. Unity is strength. They practice the "customer-centered" service concept with practical actions, and use practical actions to interpret the heart-to-heart soul of "working hard on their own to meet the needs of customers". Riding the wind and breaking the tide, it is time to set sail. I believe that with the joint efforts of the YeKeey people, a bumper harvest in 2021 will be achieved.
YeKeey people pursue the factory tenet of "ruling the factory by virtue, honesty and honesty, character and quality", driven by scientific research and innovation, based on honest management, seeking development with meticulous quality, and seeking a win-win situation with fair cooperation. Meet new friends, don't forget old friends, every user is the focus, and every guest is God. We will provide you with emulsifying mixers, stainless steel mixing tanks, high shear mixers, storage tanks, filling machines, and other products with mature technology, reliable quality, consistent sincerity, and satisfactory service. Welcome new and old friends at home and abroad to visit us. Seek common development and create brilliance together.