In the emulsification of cosmetics, there are often oil phase, water phase, and some suitable emulsifier raw materials. How to make the emulsion form a more stable system? At this time, strong external force shear is required. The high shear emulsifier passes the shearing action of external force can make the emulsion product more stable. How is it achieved?
Let's take a look at the working principle of the high shear emulsifier: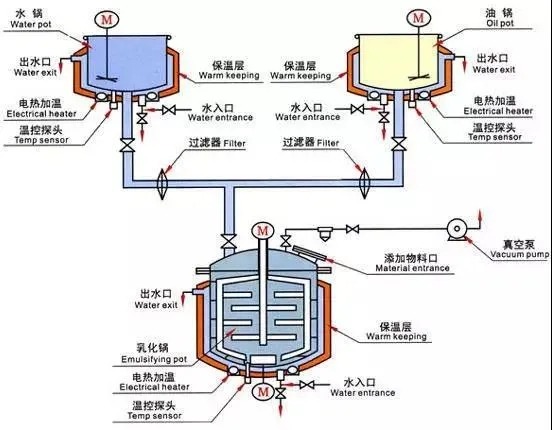 In the emulsification pot of the high shear emulsifying mixer, the material passes through the PTFE scraper on the stirring frame in the pot (the scraper always caters to the inner wall of the pot and sweeps away the sticky materials on the wall), continuously generating new interfaces, and then passing through the frame type.
The agitator and its reverse mixing blades cut, compress, and fold the materials to stir, mix, and flow down to the homogenizer below the pot, and then pass the strong force generated between the high-speed rotating rotor and the stator The cutting, impact, turbulence and other processes of the material make the material cut in the shearing gap and quickly break into 200nm~2μm particles. Material micronization, emulsification, mixing, homogenization, dispersion, etc. can be completed in a short time.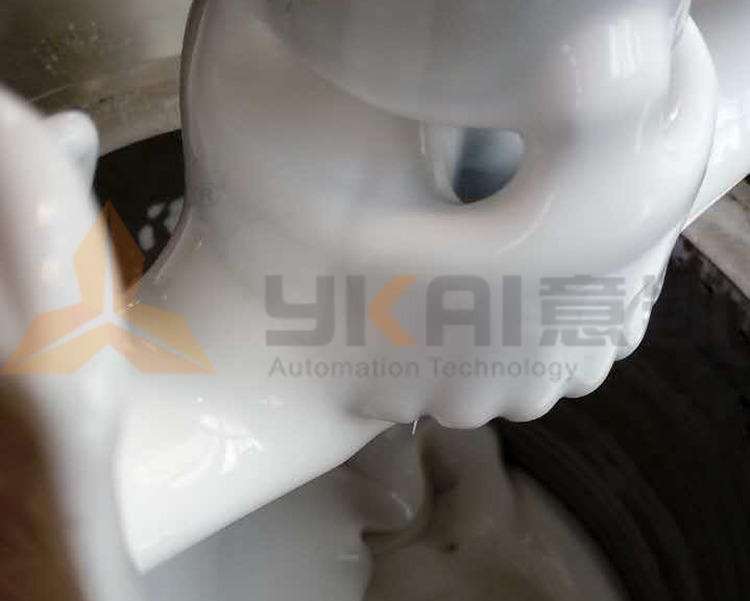 From the working principle of a high shear homogenizing emulsifier, we can understand the formation process of the emulsion. One of the important points is that the high shear homogenizer can perform a shear refinement for the emulsion droplets. The shearing effect can make the large droplets smaller and increase the number of emulsion droplets. And the greater the shearing force, the thicker and more delicate the product, making the paste thicker.
In this process of thinning and thickening, the material has obtained sufficient high shear force to meet the interface arrangement of the smallest emulsified particle size. When the interface strength is sufficient, the smaller the particle size of the droplet, the smaller the particle size. The smaller the collision contact area between the two, so that in a certain range, the high shear makes the product more stable.
The microcosm of the emulsification system of the actual product often changes with the addition of various ingredients in the formulation, especially the addition of functional ingredients. Therefore, a suitable formulation is also required, the joint action of other auxiliary materials, especially the addition of emulsifiers, and the interaction of temperature and other factors will have a certain impact on the stability of the product. Moreover, it is not that the stronger the high shear strength, the more stable the product, blindly pursuing high speed, is likely to destroy the emulsion system and loss of stability.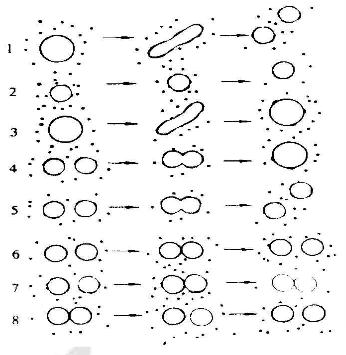 According to the emulsification and shearing requirements of the material, the YeKeey high shear homogenizing emulsifier can set the rotation speed at an appropriate 0-3000 rpm, which can ensure sufficient shear force without over-shearing the emulsification system and affecting the product stability. It is the ideal equipment for emulsion production.