YeKeey's vacuum emulsifying mixers are widely used in the fine chemical industry. Among them, laboratory emulsifying mixers are commonly used in the research and development of fine chemical laboratory technology. In particular, YeKeey's full-featured laboratory emulsifying mixers are due to their comprehensive functions and stability is welcomed by many customers. Today this ZJR series fifth-generation laboratory emulsifying mixer will soon be shipped to a customer company in the fine chemical industry for their new product development. YeKeey has always been committed to meeting customer's needs. We are committed to providing customers with comprehensive and high-quality solutions.
Introduction of laboratory vacuum emulsification mixer:
The ZJR multifunctional laboratory emulsifying mixer is designed with YeKeey 5.0 homogeneous emulsification technology and has two specifications of 5L and 10L. The speed of the homogenizer is 0-60,000 rpm adjustable frequency. It can realize the dispersion, emulsification, homogenization, and mixing of materials in a vacuum or pressure environment. It can be equipped with a variety of efficient macro agitators, high-shear homogeneous emulsifiers, and reliable vacuum sealing systems and temperature control systems. A variety of sensor detection systems can simulate industrial production in a laboratory environment.
Principle of laboratory vacuum emulsifying mixer:
This machine is a laboratory test diffuser. It is mainly used in laboratories of industrial departments and scientific research units, such as pigments, dyes, color pastes, inks, coatings, ceramic blanks and glazes, and magnetic recording materials. It is widely used in scientific experiments, production simulation, and new product development. The more common use of high-speed dispersion is to add very small solid particles to liquids or additives to form suspended particles and run simultaneously during the dispersion process. The process is:
1. Liquid particles penetrate powder particles to achieve dissolution and penetration;
2. The high-speed dispersed blade tooth surface can refine the particles;
3. The liquid particles and powder particles in the block dissolve, disperse, refine and react.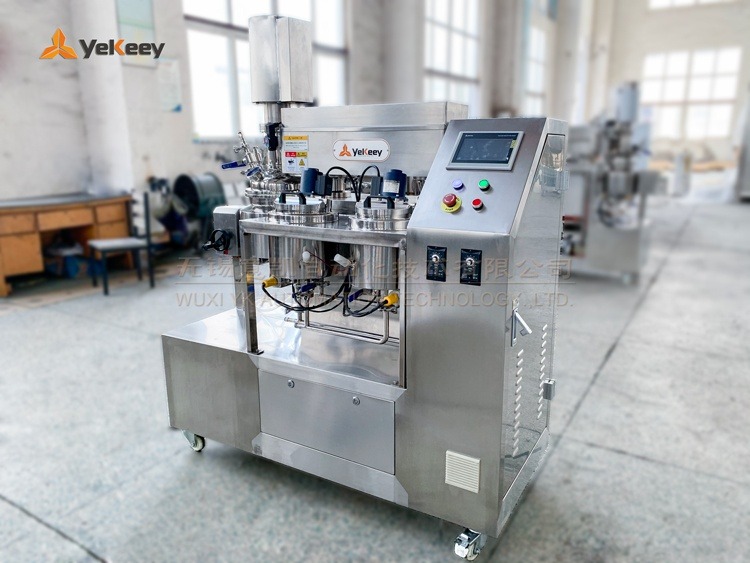 Features of laboratory vacuum emulsifying mixer:
1. Fast speed, stability, dispersion and good mixing effect.
2. Optional with a variety of dispersion, mixing impeller and customized explosion-proof performance.
3. PLC touch screen control, convenient to record data;
4. Containers with container fixing devices can be optionally equipped with outer cover.