Automatic vacuum emulsifying mixer (ZJR series) is a combination of stirring for frame-type mixing blades for high viscosity materials and high-speed homogenizing machine for emulsifying. There is a scraper on the blade stirring, which can scrape the material sticking to the inner surface of the stainless steel mixing tank to prevent the occurrence of dead corners. The kinetic energy generated by the frame-type paddle stirring on the entire tank body mixes and pushes the materials that continuously flow through the homogenizer, so that the materials in the entire emulsifying tank are mixed more uniformly.
The homogeneous head of the automatic vacuum emulsifying mixer consists of a high-speed rotor and a stator. The high rotation of the rotor and stator in the same head from top to top will create a pressure difference. The material shears, breaks, mixes, and emulsifies as it passes through the homogenizing head. When the upward force disappears, the emulsified material gushes out from the top of the same head and returns to the homogenizer through the frame-type paddle stirring again to repeatedly homogenize and stir, so as to achieve a good effect of dispersion and refinement emulsification.
Based on the above description, the automatic vacuum emulsifying mixer can widely handle applications from high viscosity to low viscosity materials.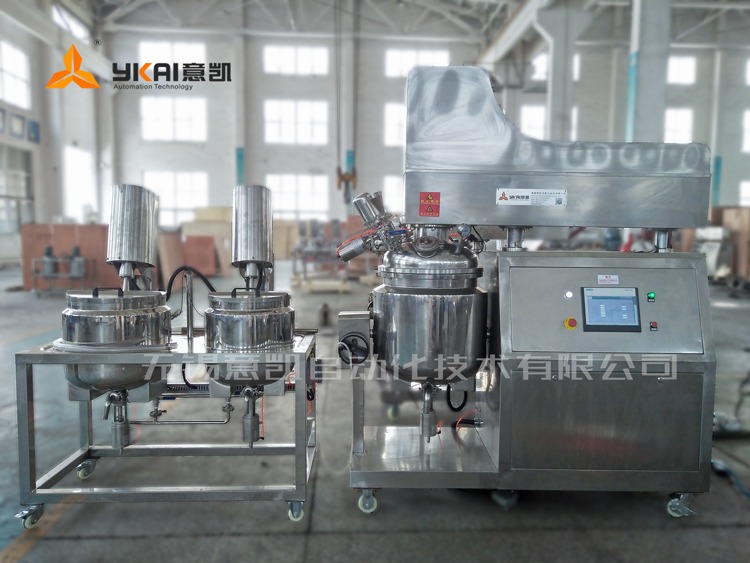 50,000 C.P.S. This machine can emulsify most materials.
The raw material can be directly sucked into the emulsifying mixer through the vacuum function.
Vacuum, heating, and cooling can be completed in one step in this emulsifying mixer.
Can be crushed, emulsified, mixed and evenly dispersed in a short time.
Frame-type paddle mixing and homogenizers can also be operated independently.
The control system is fully automatic. The touch screen, timer, and process recorder are part of the control function.
The material is made of 304 or 316L stainless steel, which can be customized.
Under vacuum operation, the emulsifying mixer can prevent outside air and air bubbles from entering the emulsifying tank.
The CIP system can be installed on this machine.