Many emulsifying mixers, filling machines, and other equipment orders have been postponed or canceled during this special time. Many customers come to consult and hope to buy more cost-effective products. For these customers, Yekeey has customized a variety of cost-effective equipment. Of course, among the laboratory emulsifying mixers, Yekeey's ZJR fourth-generation push-button laboratory emulsifying mixer has been welcomed by customers for its high-cost performance! It not only meets the cost-effective requirements of customers for laboratory emulsifying mixer equipment, but also meets customers' functional requirements for laboratory small emulsifying mixer.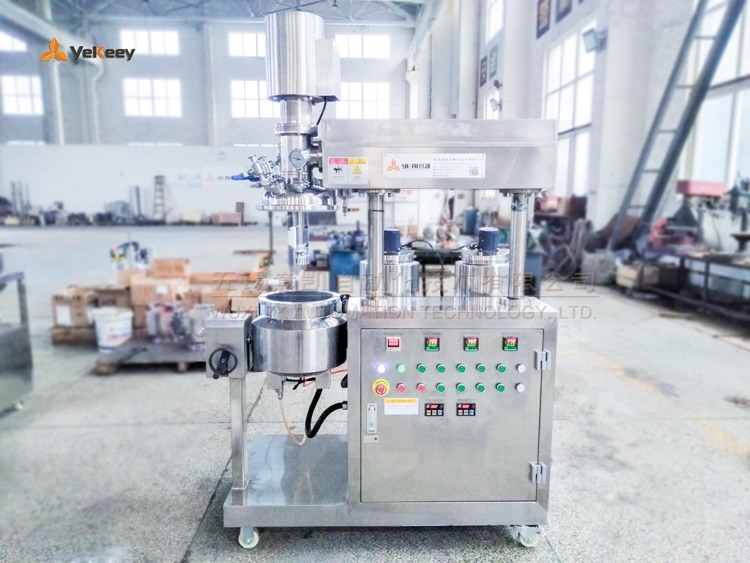 The fourth-generation laboratory homogenizing emulsifying mixer can be used in research and development institutions, such as pharmaceutical companies, hospitals, daily chemical industries, scientific research institutes, universities, etc., It can meet the requirements of dissolving, homogenizing, emulsifying, dispersing, stirring and other laboratories in these industries mixed demand for research and development. It can also be applied to the production of some small-scale or small-batch creams, lotions, sauces, and other products. The overall appearance is compact and easy to move. The core part of the high shear homogenizer cooperates with the frame-type wall scraping, which has strong performance and can be uniformly dispersed, refined, and emulsified without dead corners. The jacket design of the main emulsifying pot can be heated, kept warm and cooled. In terms of feeding and discharging and cleaning, it can be handled easily and conveniently because of the lifting and dumping functions of the lid.
Our company has developed a variety of laboratory mixing equipment, if you have different needs, you can consult us, our laboratory mixing equipment can meet the laboratory's various mixing process needs!