A customer engaged in the production of medical conductive paste, years ago purchased a set of medical conductive paste making machine——ZJR-50 vacuum emulsifier from YeKeey. After several years of user experience, the emulsifying machine runs smoothly and the quality of the conductive paste produced is stable. The customer is focused on the field of bioelectric sensing, dedicated to accurate brain electricity measurement, with high-quality silver/silver chloride powder electrodes and new electrode sensing materials as the core technology, and has obtained a number of international and domestic patents.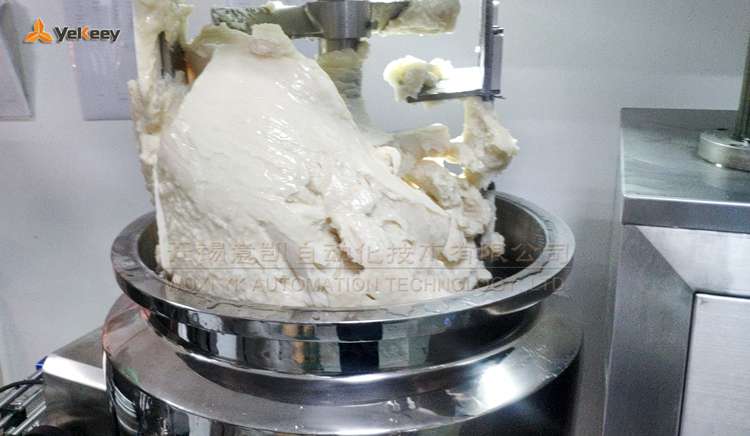 The main production and operation of medical EEG conductive paste, sleep EEG conductive paste, medical scrub conductive paste/conductive gel myoelectric scrub, EEG conductive paste, cardiac defibrillator conductive paste, etc., vacuum homogenizing emulsifier is ideal for these products Production equipment. Due to the increase in production, YeKeey purchased this ZJR-100 vacuum emulsifier and a set of pneumatic paste filling machine this time. I would like to thank this old customer for their trust and support to YeKeey!
After the equipment arrived at the site, the after-sales technical engineer of YeKeey arrived at the site to carry out installation and commissioning work. Due to the advance communication, the customer's preliminary preparations were in place, and the installation and connection of the two sets of equipment went smoothly. After the equipment was on fleek, the technical engineers of YeKeey started debugging and trial production. With the cooperation of the two parties, the debugging work was completed quickly. The following is the conductive paste produced by the vacuum emulsifying machine. After the medical conductive paste is homogenized, dispersed, and stirred by the vacuum emulsifier, it can be directly fed into the paste filling machine next to it through the pipeline for filling, which is convenient to operate and is hygienic and clean.
If you need a medical conductive paste-making machine, please contact YeKeey! The emulsifying machine has complete specifications, ranging from 5L and 10L in the laboratory, 30L and 50L in the pilot test, to 100L~2.5 tons in industrial mixing production. There are corresponding specifications and models available. In terms of configuration, the function is modular and can be customized. , Welcome specific consultation and understanding!