Mixcore mixing equipment, which — USES advanced "recycling emulsification" as the core technology of the system.  The equipment specification covers experimental and pilot production, which can provide scientific and effective mixing solutions for the production of complex and diversified products in many industries.  Due to its outstanding and numerous advantages, it can meet the requirements of mixed processing of various products. All semisolid products, such as suspensions, creams, emulsions and gels, can be produced reliably and efficiently. Mixcore works even for sterile requirements. In the production of food sauce, Mixcore can achieve twice the result with half the effort. Especially in mayonnaise, salad sauce, kata sauce, chees and other pastry sauce. Next we'll take a look at Mixcore external loop emulsifier Mayo test note!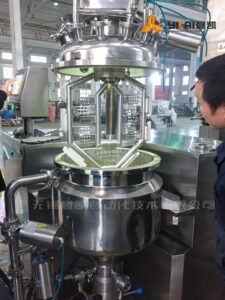 Since the launch of the recirculation vacuum homogeneous emulsifier of YK Mixcore, it has received attention from all walks of life. Many customers in the food industry have come to our company for trial experience. The customer here today is testing the mayonnaise product. For the preparation of mayonnaise, YK's classic ZJR line also works well. Since many customers come to the company for trial, the company staff are familiar with the preparation process of mayonnaise.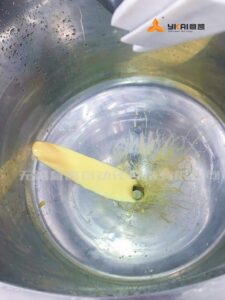 As Mixcore is a structure of an external circulation emulsifier, the material can be circulated in the pot. The material reaches the blade of emulsified pump again through the high-speed shear and refinement of the unique uniform emulsified pump and blade. At the same time, the rapid dispersing and defoaming of powders provide customers with the highest yield guarantee. The preparation time is also greatly reduced. Ordinary mayonnaise production equipment is one hour per pot. It can be prepared through the vacuum homogenization mechanism of Mixcore, which takes only half an hour. Reduce production time to 60%, saving 40% time.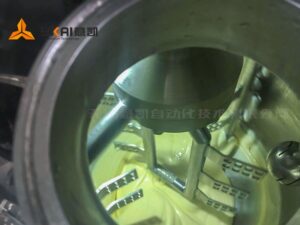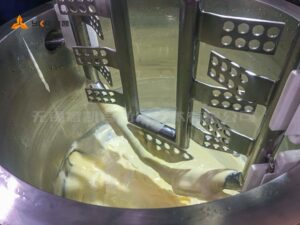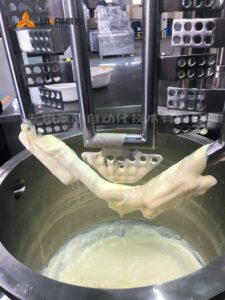 This is how the mayonnaise comes out. Whether the appearance of gloss, uniformity, or the texture of its exquisite degree, achieve a very good effect. Such efficient and advanced equipment for producing mayonnaise is the key to your fortune! If you are interested in this Mixcore from ikai, you can contact YK. Now has launched the lifting and clamping model two styles, welcome to buy!