Wuxi YeKeey helps customers become bigger and stronger, and always uses strength and attitude to bring better benefits to customers. Recently, the high shear homogenizer ordered by a customer in the YeKeey workshop has been completed. The homogenizer equipment adopts YeKeey's national patent product-LR high shear homogenizer. It is used for production without heating and vacuum, but mixing operations that products require homogeneous emulsification and dispersion. The company is an old customer of Wuxi YeKeey, who has purchased emulsifying mixer equipment and filling equipment from YeKeey for many times. Due to the expansion of the new product line this year, they ordered more LR series high shear homogenizers from YeKeey.
The LR series high shear homogenizer is a high shear homogenizer device developed by Wuxi YeKeey's scientific research team that has absorbed European homogenization technology and concepts and has a number of independent patented technology rights. The high shear homogenizer ordered by the customer will assist the customer to efficiently process the uniform mixing, dispersion, and homogenizing emulsification of some solution powders with low viscosity.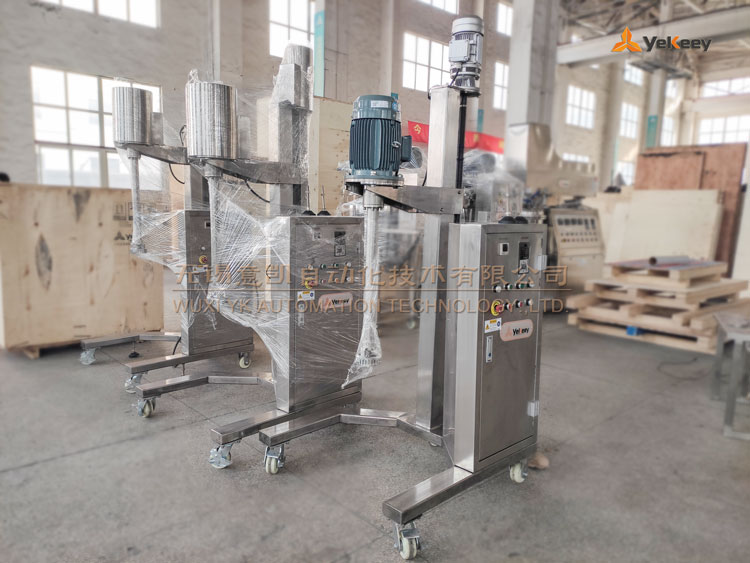 Equipment advantages
1. With the form of hanger, it can be easily pushed to any place for use
2. Flexible operation, small investment and high efficiency.
3. The whole series is equipped with electric lift to reduce work intensity.
5. It can be used alone or in conjunction with other equipment.
6. The parts in contact with materials are made of high-quality 304/316 stainless steel.
7. Different types of stator and rotor can be replaced. Meet the needs of different ingredients.
8. Mature and stable, with more than 20 years of quality accumulation, the mature transformation of traditional homogenizers.
If you want to consult more about the situation of the customer on the high shear mixer, visit the company, or purchase products, you can directly call or contact us online!